Turkish Assets Tumble as Erdogan's Rate Comments Spook Traders
(Bloomberg) -- Turkish stocks and the lira led global losses as speculation grew that economic policy under President Recep Tayyip Erdogan will remain too loose to shield the nation's assets from a selloff across emerging markets.
Erdogan said the Treasury and Finance Minister will do what is necessary for interest rates to fall, Ahaber television reported. The lira sank toward a record low and the nation's benchmark equity index tumbled -- led by banks. While the central bank has raised rates by 500 basis points since April, investors are worried that policymakers are more interested in stimulating the economy at the expense of stability.
"We should expect some rate cuts or at the very best, the central bank to be on hold despite ongoing inflationary pressures, which is a strong negative for the currency," said Delphine Arrighi, a London-based fund manager at Old Mutual Global Investors, which is marketweight Turkish rates and short the lira and sovereign bonds.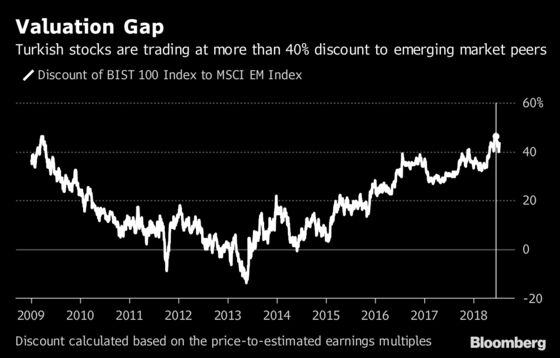 Private banks also have to share the burden, not just public banks, AHaber cited Erdogan as saying, without specifying what he was referring to. The Turkish banking index posted the biggest slump in five years on Wednesday, down 9.2 percent.
Fear of a policy blunder was compounded this week when the president appointed his son-in-law as the nation's economic and finance chief, removing market-friendly ministers such as Mehmet Simsek, while assuming exclusive power to name the central bank governor. The swap market is now pricing in about 100 basis point of monetary tightening over the next year. The central bank next meets on July 24.
"I hope the new minister is watching the market moves -- I know it's not Turkey-specific and trade war fears play a significant role," said Inan Demir, an economist at Nomura Plc. in London, said before Erdogan's comments. "But it does show you that there is almost no room for error."
Turkish assets remains particularly exposed to shifts in investor sentiment given the nation's large external financing needs, and have been among the hardest-hit among peers this year. Major central banks are dialing back years of extraordinary loose monetary policy that has helped spur capital inflows that finance a chunk of the economy's current account deficit. Inflation is running at more than three times the official target and companies that have borrowed heavily in foreign currency are strained.