Trump's Trade War Sinks China's Yuan Most Since 2015 Devaluation
(Bloomberg) -- Donald Trump's tariff barrage pushed Chinese markets into their worst selloff since a shocking currency devaluation three years ago.
The offshore yuan fell the most since August 2015, on a closing basis, as the White House said it's ready to impose 10 percent tariffs on $200 billion of Chinese-made products. Beijing said it would be forced to retaliate, describing the move as "totally unacceptable." Meanwhile, the iShares China Large-Cap exchange-traded fund extended a two-day slide to 2.5 percent.
"It's going to be difficult to find some place to hide," said David Lebovitz, global strategist at JPMorgan Asset Management in New York. China can allow the currency to weaken a bit further, but at some point it will step in as too much weakness would be counterproductive, according to him.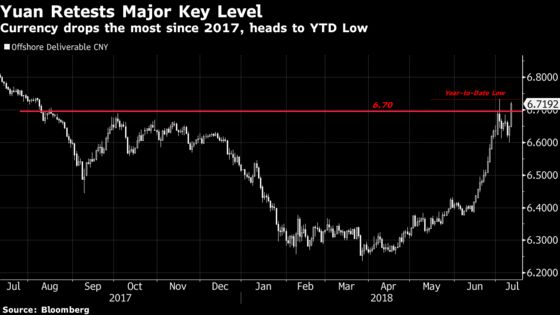 The U.S. trade dispute stoked concern in a market already rattled by the impact of Beijing's deleveraging drive and signs of a slowdown in the economy.
Chinese investor anxiety, as measured by the onshore yuan's one-month implied volatility, has climbed the most in the world this past month amid an escalating trade war between the world's two largest economies. The nation's stocks slid deeper into a bear market on Wednesday, down 22 percent from their yearly high in January.
The yuan is about to get bailed out by a weaker dollar, according to forecasters who correctly called the Chinese currency's recent downtrend. Investec Bank Plc, PNC Financial Services Group Inc. and Svenska Handelsbanken AB all see the yuan strengthening in the second half even as bigger-name forecasters have rushed to cut their projections.
"We suspect that the dollar is at or very close to its peak," said Investec economist Ryan Djajasaputra, who predicts the yuan will rise more than 4 percent to 6.35 versus the greenback by year-end. "You will see some stability on the trade front and therefore perhaps a degree of appreciation in the yuan over the next six to 18 months."
Here's how analysts and investors are reacting:
Dai Ming, a Shanghai-based fund manager with Hengsheng Asset Management:
"It's a dilemma for China, which might need to loosen its policies to cope with the impact of trade war on its economy, but monetary easing would pressure its currency"
"Risk appetite will remain cautious in the short term as markets continue to search for a bottom"
Lebovitz at JPMorgan Asset Management:
"You want to focus on emerging markets with the least exposure to the Chinese economy, but it is very difficult"
Recommends seeking short-term refuge in U.S. markets, especially small caps and financials, which have less international exposure
Within EM, favors EM Europe over Southeast Asia
Credit Agricole strategists led by Sebastien Barbe in Montrouge:
Investors should park money in haven assets such as Chinese government bonds
"We recommend caution until more visibility is available regarding China's reaction and the conflict's likely outcome"
Further escalation could hit Chinese growth and current account, pushing the currency and equities lower
David Gaud, Pictet Wealth Management's chief investment officer in Singapore:
Firm has reduced exposure to Chinese stocks but remains overweight
Decreased exposure to some property, banks and insurance stocks
Favors select stocks in healthcare, property and consumption in China
Iris Pang, Greater China economist at ING Bank NV in Hong Kong:
"I don't even think China has thought about giving in"
China is more likely to win the trade war as the government can provide tax relief to affected exporters and incentives for exporters to sell their goods, whereas a similar response in the U.S. would be far more complicated given the administrative process
Revises forecast for onshore yuan to 7.0 per dollar by year-end, which although weak isn't the weakest compared with other Asian currencies
Wang Yi, an analyst at Great Wall Securities:
Hard to tell if China A shares bottomed out as valuations likely to decline gradually
Fundamentals are better than 2008, when government introduced strong stimulus