Metals, Machine Stocks, Chipmakers Bear Trump's Tariff Brunt
(Bloomberg) -- A familiar cohort of commodity, materials and industrial stocks slipped on Wednesday after the Trump administration threatened more China tariffs, while analysts speculated furniture and clothing makers were also at risk.
Industrial metals miners were some of the biggest decliners, with companies from Freeport-McMoRan Inc. to Cleveland-Cliffs Inc. slipping as much as 4 percent at 12:30 p.m. in New York. Trade-sensitive stocks like Boeing Co., Caterpillar Inc. and Deere & Co each slid about 2 percent. Auto stocks were also under pressure, including declines of 3.5 percent for Fiat Chrysler Automobiles NV, 1.9 percent for General Motors Co. and 1.4 percent for Ford Motor Co.
President Donald Trump proposed additional levies on $200 billion of Chinese goods that may raise import prices on almost half of everything the U.S. buys from China. The newest salvo in the trade war shattered the momentary calm ahead of the earnings season and triggered concern companies may have to tone down their forward guidance.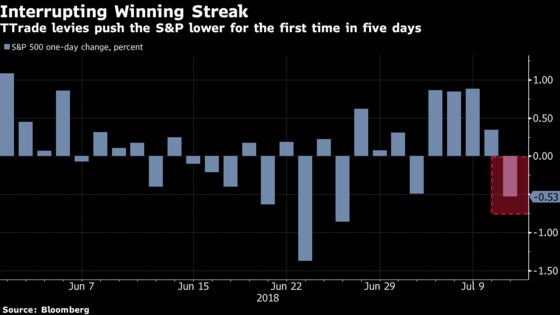 "Slap a 10 percent tariff, and either the company eats it and loses profit or it tries to pass it onto the consumer," said Michael Antonelli, an institutional equity sales trader and managing director at Robert W. Baird & Co. "Either way: bad outcome."
Networking equipment, computer components, and furniture would be the most heavily impacted imports in the newest round of tariffs, Goldman Sachs economist Alec Phillips said in a note to clients.
"The list raises the probability that further tariffs will be implemented, though we note that the publication of the list is not a commitment to implementation, which would need to be ordered in a separate step following a comment period," Phillips wrote in the note.
The S&P 500 slid 0.6 percent, with materials, energy and industrials pacing declines. Chipmaker Micron Technology Inc., which relies on China for 51 percent of its revenue, dropped 3 percent. Advanced Micro Devices Inc. fell 1.7 percent and Nvidia Inc. dropped 1.9 percent.
Furniture stocks declined as Matthew Fassler, an analyst at Goldman Sachs, cautioned that RH, Williams-Sonoma Inc. and At Home Group Inc. were among the stocks in the sector most affected by the new round of tariffs. At Home plummeted 9.6 percent, while RH slid 5.8 percent and Williams-Sonoma dropped 3.1 percent.
Fassler said the trade levies may also affect tools, tires, small appliances, sporting goods and home-improvement stores. Bed Bath & Beyond Inc., one of the stocks called out by Fassler in a note to clients, dropped 2.5 percent.
Designer purse-maker Michael Kors Holdings Ltd. fell 1.9 percent after retreating as much as 5.2 percent, the most among its S&P peers. Tapestry Inc., whose brands include Coach and Kate Spade, dropped 2.7 percent.