Stocks Quants Are Reeling From the Worst Run in 8 Years
(Bloomberg) -- The dog days of summer have arrived for quants.
Systematic traders who tie their fortunes to the ebbs and flows of stock markets are experiencing some of their worst returns in eight years relative to a key benchmark, according to one Wall Street estimate.
Factor investing -- which slices and dices equities based on traits like profitability and price volatility -- has buckled while the broader market has stayed afloat. For example, AQR Capital Management LLC's $1.9 billion mutual fund, one of the largest in the sector, last month nursed its steepest loss since inception.
It's all adding insult to injury for quants struggling to make money this year as equity volatility awakens and economic angst builds.
One reason: factors that tend to move in the opposite direction failed to offset each other, dropping in unison last month. A market-neutral version of value -- which bets on companies priced cheaply while offsetting the broader market -- rounded off its worst quarter since 2011. Meanwhile, momentum, which bets on the highest fliers like tech stocks, saw its biggest monthly drawdown in more than two years.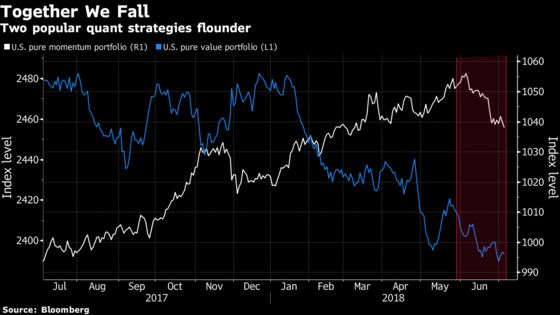 "This particular period was driven by tough performance for value," said Jacques Friedman, principal at AQR. "The complementary themes like momentum and quality weren't up enough to mitigate the underperformance of value."
The AQR Equity Market Neutral fund fell 4.8 percent in June, the worst monthly performance since its 2014 launch, according to data compiled by Bloomberg. That brings its 2018 losses to 8.7 percent, compared to a 5.8 percent total return for the Russell 1000 Index.
The Greenwich, Connecticut-based firm is in good company. Only 17 percent of large-cap active quant mutual funds outperformed the Russell 1000 index in June, the worst monthly showing in more than eight years, according to Bank of America Corp. The average fund tracked by the U.S. bank gained 0.1 percent versus 0.6 percent for the broader gauge. Vanguard Group's $1.6 billion market-neutral mutual fund fell 1.8 percent, the worst in more than a year. A spokesman for Vanguard declined to comment on performance.
Trade and supply concerns that spurred oil-price volatility may have crimped quant returns, said Mark Connors, the head of risk advisory at Credit Suisse Group AG.
"When crude or rates move unexpectedly, it often results in unexpected price patterns for other factors including momentum, value and other benchmark factors," he said. "It also impacts the bespoke factors that quant funds create for differentiated returns."
Value has been struggling for much of this year. Some strategists blame an aging business cycle that hits cheap stocks especially hard. The thinking goes that the sector does best during the early stages of economic expansions, when strong corporate profits will lift even the most chronically underpriced shares.
But given the recent intensity of declines, company- or industry-specific catalysts might have played an outsize role. For example, Micron Technology Inc. has the largest weight in the Bloomberg pure-value portfolio. The semiconductor's shares plunged 9 percent in June, as Chinese regulators opened a probe and subsequently banned chip sales from the company.
Another possibility: With losses mounting, programmatic traders may have sold
their value holdings, prompting larger declines. It's hard to size up the systematic kingdom, but there is evidence such investors have cut back in general. Equity quants on Credit Suisse's prime services platform curtailed stock exposure by 7 percent in the second half of June.
AQR is sticking to the market-neutral strategy, which has seen quarters with volatile returns before, according to Friedman. And it hasn't sold into the downturn.
"There's been no indication there's a liquidity-driven reason for why value has underperformed," he said. "If it were driven by quant selling you would be more likely to see all factors down at the same time. We don't see abnormal factor performance that would indicate that there's been liquidation activity."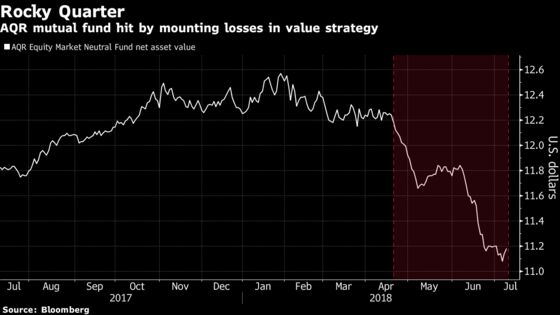 For funds heavily reliant on value, some exposure to momentum helped contain the damage earlier in the year. A market-neutral version of the investing style posted positive returns for the first five months of the year, the longest winning streak since 2007, data compiled by Bloomberg show. Then came June: the worst month since April 2016 when tech stocks plunged amid an earnings shortfall.
Momentum is still on the decline this month, unable to support funds weakened by value's downturn. U.S. market-neutral momentum has lost 0.3 percent in the first six trading days of July, according to a basket compiled by Bloomberg.
"With momentum stocks outperforming for most of this year, many of the long -short momentum factors we track appear stretched on valuations and crowded by active ownership," BofA equity quant strategists, including Savita Subramanian, wrote in a note last month.