What Foreigners Are Buying and Selling After China's Stock Rout
(Bloomberg) -- Foreign investors are zeroing in on health-care and consumer stocks and ditching some old favorites, as they sift through the spoils of a $2 trillion selloff in China's equity market.
Companies exposed to China's growing middle class and resilient to external turbulence like the trade fight are popular picks for foreigners investing via trading links with Hong Kong. Liquor maker Kweichow Moutai Co., Han's Laser Technology Industry Group Co. and Jiangsu Hengrui Medicine Co. are among those in demand, while Gree Electric Appliances Inc. and Shanghai International Airport Co. have fallen out of favor.
"Investors are focusing on defensive stocks, such as companies with strong earnings visibility and a high probability of delivering growth regardless of the short-term macro slowdown," said Caroline Maurer, head of greater China equities at BNP Paribas Asset Management in Hong Kong. "White liquor and health-care names are likely to be in this category."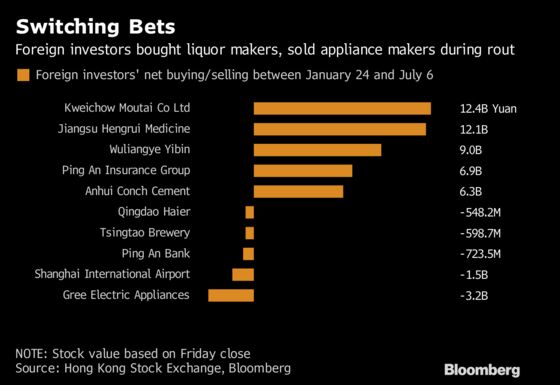 Chinese shares have been on a downward slide since hitting a more than two-year high in January, as investors worried about Beijing's campaign to rein in leverage and its impact on liquidity, as well as corporate defaults, the slowing economy and an intensifying spat over trade and technology investment between China and the U.S.
The CSI 300 Index of Chinese large cap stocks has fallen 22 percent from its Jan. 24 high. Its consumer staples sub-gauge -- which includes Moutai -- is the third best performer on the index over that period, despite falling 14 percent. The health-care sector is the one bright spot, advancing 9.6 percent as a group. Jiangsu Hengrui has helped lead the charge with a 21 percent gain.
The outperformance of health-care stocks is a reflection of the growing middle class in China wanting better medical coverage, while steadily improving living standards have buoyed consumer stocks, said Tai Hui, chief market strategist at JPMorgan Asset Management in Hong Kong.
Stocks Seeing the Biggest Selling

According to Hong Kong Stock Exchange data, foreign investor ownership of Gree Electric via the trading links has fallen to 7.9 percent from 9.1 percent in January. It slipped to as low as 6.7 percent in late April, when the home appliance maker skipped a dividend payout for the first time in 11 years.
BNP's Maurer said the selling reflects investor concern about China's housing market.
While Shanghai International Airport remains popular among foreign investors -- who hold almost a third of the company -- that hasn't stopped them from selling stock this year. Corrine Png, chief executive officer of Crucial Perspective Pte. in Singapore, wrote last month that it's increasingly likely the escalating trade dispute spurs China to impose curbs on outbound tourism to the U.S.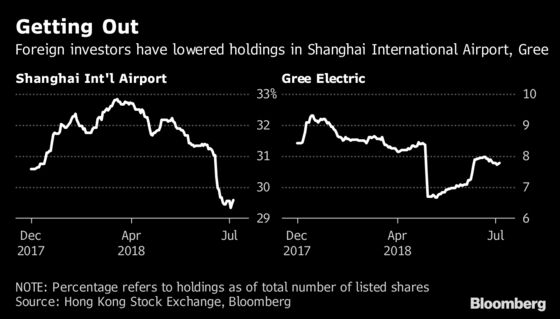 Equities Foreigners Are Seeking Out
International investors have bought a net 12 billion yuan ($1.8 billion) of Moutai shares since January, though the world's biggest distiller by market value has seen its stock drop 5.9 percent since then. Foreign holdings of Moutai and fellow liquor maker Wuliangye Yibin Co. are both near at least 15-month highs.
"Foreign buying of consumption-related names could continue, as more foreign funds are expected to flow into the A-share market in the second half thanks to the weakening yuan, cheap valuations and inclusion of onshore stocks in the MSCI Inc. indexes," said Banny Lam, head of research at CEB International Investment Corp. in Hong Kong, referring to the inclusion of mainland Chinese stocks in index compiler MSCI's gauges last month.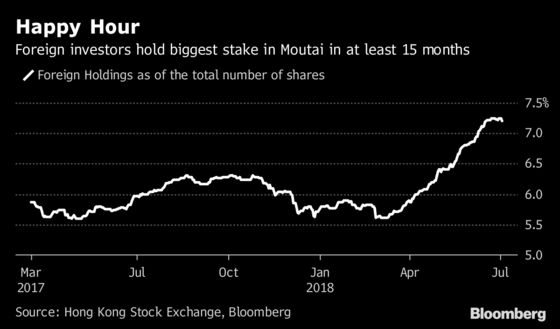 Shenzhen-listed Han's Laser is rapidly turning into one of the most popular stocks in the eyes of foreign investors, who have boosted their stake to more than 11 percent from just 5 percent in January. That's the biggest increase for any company listed in Shenzhen. The maker of laser-based products has attracted investors because of the potential for Chinese industry to use more laser technology, said Hiroki Lu, a fund manager at SinoPac Securities Investment Trust in Taipei.
"Foreign investors initially invested in home appliances and liquor," Lu said. "After the MSCI inclusion, they researched China more broadly and began to notice smaller companies -- there is still a lot of potential for Han's Laser to grow."