U.S. Drivers To Cut Gasoline Use for First Time Since 2012
(Bloomberg) -- American motorists are poised to pump less for the first time in six years, as higher gasoline prices prompt them to adjust their driving habits.
U.S. gasoline demand is expected to fall by 10,000 barrels a day in 2018 compared to last year, according to the Energy Information Administration's monthly Short-Term Energy Outlook. The last time annual fuel demand declined was in 2012, when pump prices neared $4 a gallon and consumption dropped by 70,000 barrels per day.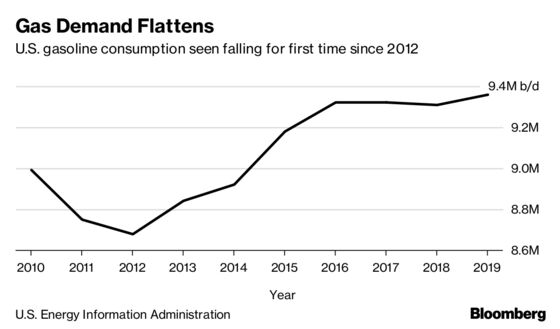 While gasoline prices are unlikely to reach that level this year, they're still putting downward pressure on demand at a time when Americans are already switching to more fuel-efficient vehicles and changing their driving habits, said Tim Hess, product manager for EIA's Short-Term Energy Outlook.
"While a slow trend, it does over time push down consumption of gasoline," Hess said.
The EIA sees the average retail price of regular-grade gasoline rising to $2.76 a gallon from an average $2.42 a gallon in 2017. Overall consumption is forecast at 9.31 million barrels a day, the agency said Tuesday.