Time to Dial Down on Risk and Cut Europe Stocks, BlackRock Says
(Bloomberg) -- It's time to dial down on risky assets including European equities and get ready for a market regime change amid greater uncertainty and rising interest rates, BlackRock said.
The asset manager, which had $6.3 trillion in invested assets at the end of March, is keeping its overall preference for equities over bonds globally, but has started to trim positions on stocks, cutting European stocks to underweight.
While the U.S. is enjoying "unmatched" earnings momentum, Europe is seeing relatively muted earnings growth, weak economic momentum and heightened political risks, according to Isabelle Mateos y Lago, chief multi-asset strategist at BlackRock Investment Institute. A market dominated by value sectors also makes the region less attractive in the absence of a growth upswing.
"Political risk is back with a vengeance in Europe and that's unfortunate," she said in an interview in Paris Monday. "The euro-skeptics in the Italian government could be disruptive for the euro area."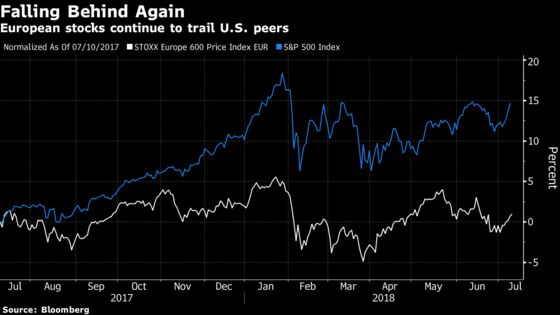 Investors have been slashing exposure to the region this year, with European equity funds suffering outflows of $29 billion since the start of 2018, according to Bank of America-Merrill Lynch strategists. The Stoxx Europe 600 is down 1 percent this year, falling behind a 4.1 percent gain for the S&P 500.
A number of analysts have argued that the region's stocks are now attractive after their recent underperformance, but Mateos y Lago disagrees. "It's not that clear that European stocks are cheap at this point. Relative to U.S. equities, for instance, the current discount is pretty much in-line with the historical average," she said.