Aussie Funding Squeeze Permeates Through the Basis Swaps Market
(Bloomberg) -- The chase for Aussie-dollar funding continues to reverberate across markets down under, making cross-currency basis swaps its latest victim.
Such is the shortage in interbank markets that a lender offering Aussie funds in exchange for U.S. dollars is getting a premium of 33 basis points for the one-year swap, the widest level on record. This move in cross-currency basis swaps is the latest domino, with the funding squeeze since the start of this year already having driven bank borrowing costs higher.
And the situation is unlikely to change soon, says Damien McColough, head of fixed-income research at Westpac Banking Corp. in Sydney.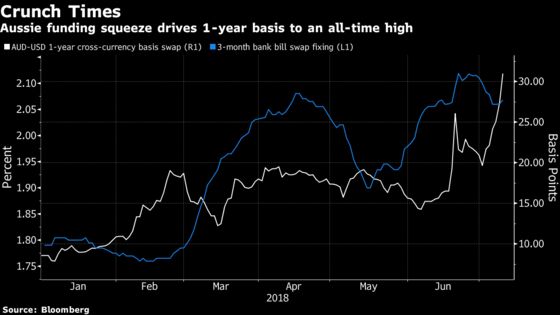 The repurchase market -- where banks bid for funds by pledging securities -- has been at the heart of the crunch as rates there surged in early 2018 on the back of record demand for Australian securities from overseas investors. And then there are some structural factors in play too.
Falling deposit growth at domestic banks in times of steady credit demand is the most important factor, McColough wrote in an emailed response to questions. That, along with the rapid slowdown in the broad money-supply growth, and higher bank borrowing costs, are ongoing issues and unlikely to go away anytime soon, he said.