Ex-Deutsche, BlackRock Quants Look to Shake Up a $51B Indonesian Industry
(Bloomberg) -- Two young ex-New York financial professionals, veterans of the global crisis of 2008, have returned to Indonesia with a goal of shaking up the country's $51 billion mutual fund industry.
Guntur Putra, a former analyst for BlackRock Inc., and Andri Yauhari, who worked with Greg Lippmann of the Big Short fame and his group on the valuation of asset-backed securities at Deutsche Bank AG, went back to their homeland and teamed up with Indra Firmansyah to set up PT Pinnacle Persada Investama in 2015. It's the country's first mutual fund house offering quantitative-based strategies on all its equities, fixed income and exchange-traded fund products.
In three years, the firm has accumulated 3.5 trillion rupiah ($243 million) in assets, with a team of 21 employees including eight investment professionals. The Pinnacle Strategic Equity Fund has lost 0.6 percent in the past year, beating 79 percent of peers, according to data compiled by Bloomberg.
"As a financial market, Indonesia is so underdeveloped," Putra, 37, said in an interview. "There are things that we saw and experienced back in the U.S. that don't even exist here. We know that we can make our mark if we get into the right niche. That's where the quantitative analysis approach in asset management comes in."
The fund counts John Rachmat, who correctly predicted two slumps in Indonesian equities when he worked for PT Mandiri Sekuritas, as an adviser. Rachmat and the company established the Pinnacle Granditas Dynamic Balanced Fund this year, which made its mark by escaping the rout in Indonesian equities market at the beginning of 2018.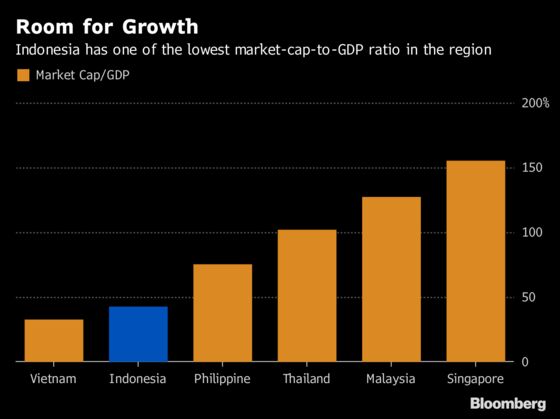 Pinnacle has expanded to manage $243 million in assets in one of the smallest capital markets and mutual fund industries in the Southeast Asian region. Indonesian stocks have a market value of about $440 billion, which is only about 43 percent of the country's gross domestic product. Compare that to Singapore, where the equity market's capitalization is around one-and-a-half times of the city state's GDP.
And while total mutual fund assets in Indonesia have almost doubled in the past five years, they still account for just 12 percent of the market capitalization of the Jakarta Composite Index.
More than 80 percent of Pinnacle's assets under management come from institutional clients, such as pension funds and life insurance firms. The company is now focusing on selling its funds to millennials in the world's fourth-most populous nation and is working to start its first digital robo-adviser, according to Putra.
"Indonesia is still in a very early stage of development and there is still tremendous potential for growth," Putra said. "It is definitely in a sweet spot."