Vanguard Isn't Luring as Much Cash Along With Industry
(Bloomberg) -- Vanguard Group is attracting a lot less money from investors this year compared with 2017. Turns out, the mutual fund giant's not alone.
Vanguard, the world's second-largest money manager, collected $106 billion in the first half of 2018, down from $207 billion in the same period a year ago, according to the firm. That's a decline of 49 percent. By comparison, total U.S. fund flows -- money going into exchange-traded, active and passive mutual funds -- fell roughly 50 percent, according to Bloomberg estimates.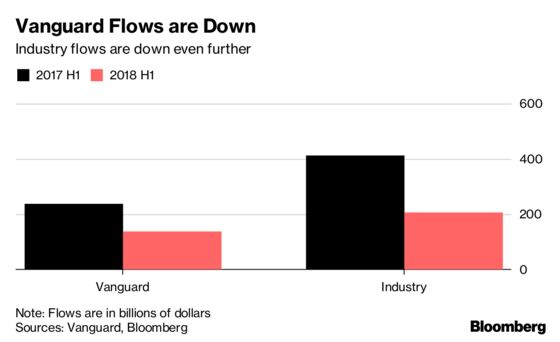 "Relatively relatively speaking their dominance is still intact," Eric Balchunas, senior ETF analyst with Bloomberg Intelligence, said about Vanguard.
The reason for the drop-off in overall flows? The so-so performance of the stock market, said Balchunas, who points out that there is a strong correlation between market returns and fund flows. The S&P 500 Index rose 2.7 percent in this year's first half compared with 9.3 percent in the first six months of last year.