Tiny Hurricane Beryl Is Smaller Than Manhattan But Packs a Punch
(Bloomberg) -- Hurricane Beryl has grown in strength -- but not in size -- as it dodges dry African air deep in the Atlantic Ocean. Meanwhile, a second system may form off North Carolina.
Beryl has grown into a Category 1 storm -- the weakest class of hurricane -- but its winds only extend about 10 miles (16 kilometers) from its center. That's not even big enough to cover Manhattan, which is about 13 miles from tip to tip.
What Beryl lacks in size it seems to be making up for in potency. It could reach Category 2 strength on the five-step Saffir-Simpson scale by late Saturday, the National Hurricane Center said. But the storm, about 1,000 miles southeast of the Lesser Antilles, may remain too far out to sea to do much damage.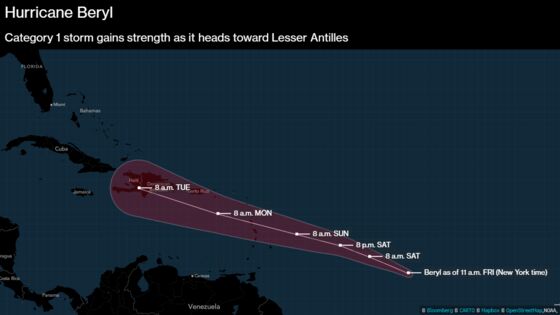 "It is possible even if it maintains its strength it could find a gap between the islands and no one would feel even a tropical-storm force wind," said Jeff Masters, co-founder of Weather Underground in Ann Arbor, Michigan.
While tiny as tropical systems go, Beryl doesn't hold the record for the smallest storm. That goes to Tropical Storm Marco in 2008, Masters said.
So far Beryl has proved resilient. When it first formed, forecasters predicted it would dissipate quickly. It's surrounded by dry African air, which can deprive hurricanes of the humidity they need to thrive. Yet the storm has hung on, and now the hurricane center said it could make it to Hispaniola, home of Haiti and the Dominican Republic, by July 10.
By then, Beryl could have company. The low pressure system off North Carolina has an 80 percent chance of becoming a tropical system by July 11. Masters said that one has to be watched.
"You could have a hurricane off the North Carolina coast by the middle of next week," Masters said.