Thai Finance Minister Says No Need for Central Bank to Hike Rate
(Bloomberg) -- Thailand's finance minister said the nation can refrain from raising its policy interest rate as the currency has weakened at a slower pace than peers and capital outflows are unlikely to pose a major risk.
The baht's recent drop will help boost incomes for the 30 million Thais in the farm sector, Apisak Tantivorawong said in an interview Thursday. The currency's retreat may also repel speculative short-term investors, reducing financial-market risk, he said.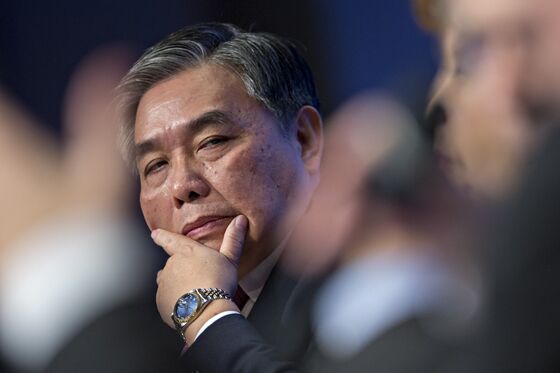 "We see no need for any change in monetary policy," Apisak said in Bangkok. The relatively resilient foreign-exchange rate and the contained pace of fund outflows provide scope to leave borrowing costs unchanged, he said.
The debate over when the Bank of Thailand will join a global wave of tightening intensified this week after the minutes of its June 20 meeting revealed a discussion about policy normalization, even as the key rate was held at near a record low. The fastest economic growth in five years and the return of inflation to the monetary authority's target zone are bolstering the case for the first rate rise since 2011.
If economic expansion continues and inflation moves more firmly within the 1 percent to 4 percent target, "the need for a policy rate increase in order to build policy space in the future would be increasing," according to the minutes.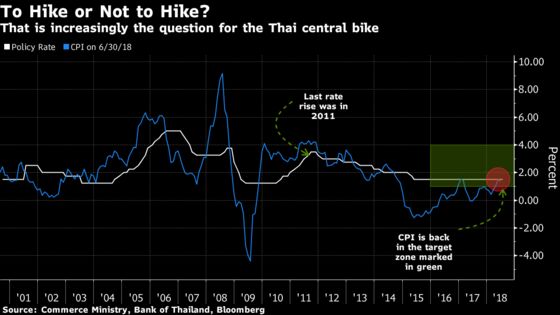 "The monetary policy committee may see other factors that we haven't seen," Apisak said. He reiterated that the decision on borrowing costs rests with the central bank.
The government will continue its fiscal expansion by accelerating investment in infrastructure projects such as high-speed railways, airports and highways, the finance minister said. It will also promote the 1.7 trillion baht ($51 billion) so-called Eastern Economic Corridor development project to spur foreign-direct investment, he said.
Public debt is expected to peak at about 49 percent of gross domestic product in the next three to four years, below the ceiling of 60 percent, Apisak said. The budget will be in balance in 11 years, assuming annual economic growth of 4 percent, he added.
Foreigners have pulled a net $5.9 billion from Thai equities so far this year, while investing $3.5 billion in bonds. The baht has weakened 2 percent against the dollar in 2018, making it one of Asia's most resilient currencies over the period. In the past three months, the currency's 6 percent drop is the region's worst performance.
Rising U.S. interest rates and a stronger dollar sparked a sell-off in emerging markets in 2018, prompting nations from Indonesia to Turkey to boost borrowing costs.
The Bank of Thailand's one-day bond repurchase rate has been at 1.5 percent since 2015.
The monetary authority has previously said that it doesn't feel under pressure to follow the global tightening trend, given Thailand's buffers of a current-account surplus and more than $200 billion of foreign reserves.
Apisak, 64, is finance minister in the military government formed after a coup in Southeast Asia's second-largest economy in May 2014. A general election and a return to a civilian administration is expected next year.