Stock Markets From Vietnam to Tokyo Hit by Trade War Contagion
(Bloomberg) -- In the U.S. versus China trade conflict, China isn't the only loser for equity investors.
Asian markets from Shanghai to Tokyo -- and even Ho Chi Minh City -- have been the biggest casualties ahead of American tariffs on $34 billion of Chinese exports and retaliatory measures set to begin Friday.
In total, nine out of the world's 10 worst-performing stock indexes this week were from the region, with the Hang Seng China Enterprises Index and Shanghai Composite Index sinking 4 percent or more through Thursday's close. On the other side of the Pacific, the S&P 500 Index climbed 0.7 percent.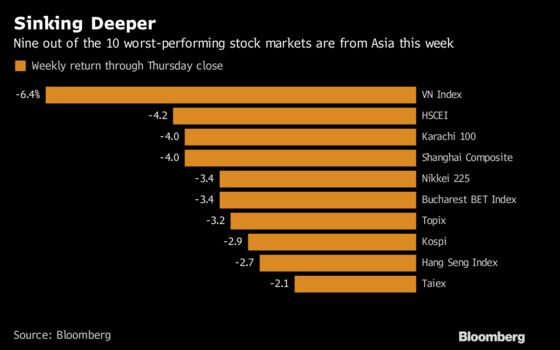 More than $2.7 trillion in Asian equity value has evaporated in the past month as Shanghai-listed shares entered a bear market and foreigners fled the region's stock markets with trade-war worries intensifying. The MSCI Asia Pacific Index has taken its losses to 13 percent from a January high, closing on Thursday at its lowest level since October.
Some are looking at the bright side, pointing to lower valuations as opportunities to buy shares. And then, who knows, markets may just soon stage a stellar rebound.
"There is a lot of negative sentiment driven by trade that could easily change should the situation not get any worse," said Kerry Craig, global market strategist at JPMorgan Asset Management in Melbourne. "We'll find out about that in the next week or so."