Yield Curve Gets Squashed Again With Tariff Deadline Approaching
(Bloomberg) -- The midnight deadline for U.S. tariffs on China is offering traders another excuse to steamroll the Treasuries yield curve.
The gap between 2- and 10-year Treasury yields sank under 28 basis points Thursday, the smallest since 2007. The flattening gained momentum heading into the afternoon release of minutes from last month's Federal Reserve meeting, which reaffirmed support for the central bank's plan to hike rates gradually and included an exchange on the risks to growth from a deepening trade dispute.
Tariffs on $34 billion of Chinese imports will go into effect at 12:01 a.m. Friday in New York, barring a last-minute deal. China has vowed to retaliate immediately with tariffs of its own. Betting on the dwindling curve is a way to play the risk of a trade war, if investors focus on the disinflationary effects of the tariff spat, according to Mark Cabana at Bank of America Corp.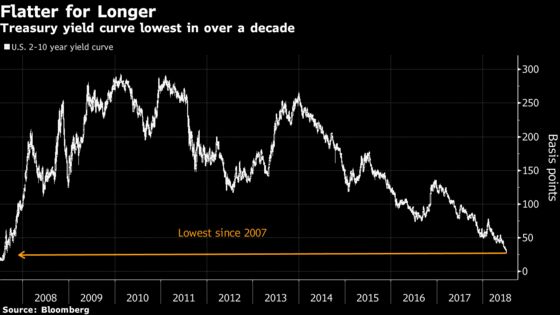 Cabana said that at the start of a trade war the Fed is likely to stick to its tightening path, awaiting sufficient evidence of an economic slowdown, "and that may keep policy makers from adjusting their stance as fast as the market does," the rates strategist said.
Judging by the minutes from their June meeting, policy makers are watching for hints of slackening growth. Officials discussed the curve as a potential harbinger of recession. Some said other possible explanations for flattening may be jamming the market's signaling, including reduced investor expectations for inflation.
The data ahead are unlikely to fuel concern about growth. Friday's key monthly release of job data is expected to sustain the months-long curve flattening trend, by confirming the strength of the nation's labor market. The difference between 5- and 30-year yields also fell to the slimmest since 2007 Thursday.
At BMO Capital Markets, rates strategist Ian Lyngen has his eye on a spread of 22.5 basis points for 2- to 10-year maturities as the next level to watch for the flattening move.
"Any re-steepening will be an opportunity to reinstate flatteners," he said. "This trend isn't done."