Post-Tariff Market Calls Remind Investors of Sports Bets
(Bloomberg) -- It's pretty rare to find investment advisers at a loss for words. But that's exactly how many of them feel about predicting the market impact from U.S.-China tariffs.
Strategists from Credit Suisse Group AG to Wells Fargo Asset Management say it's pretty much impossible to correctly recommend how to position for President Donald Trump's imposition of tariffs on $34 billion worth of Chinese imports. What they all agree on is that volatility is here to stay and that things can turn out to be either really good or really bad.
Stocks climbed in Asia on Friday and the yen slipped with gold as the U.S. imposed tariffs on $34 billion of Chinese imports just after midday Beijing time, with China immediately saying it would be forced to retaliate. European and U.S. equities had closed higher on Thursday, with European automakers rallying the most in two years on the optimism of a trans-Atlantic tariff agreement.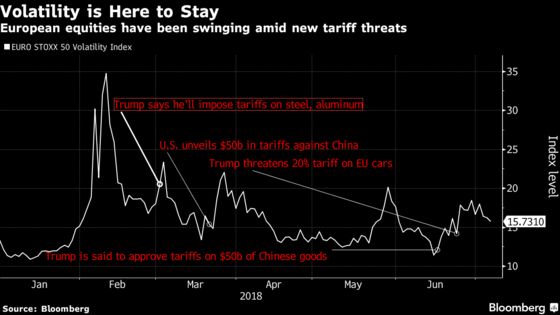 Here's what investors surveyed by Bloomberg had to say about the trade spat's big deadline:
Brian Jacobsen, Wells Fargo Asset Management
"We expect that the damage will be short-lived and contained. It's hard to know, so you have to place your bets where the outcomes could be pretty binary. Either this is a negotiating tactic and things will turn out fine, or it will become a battle of attrition where the parties will see who can sustain the biggest losses and still survive. It feels more like betting on a sporting event outcome than investing."
"The reason we think this is more a negotiating tactic is that we've already heard from the EU that they might consider zero tariffs. That would be a tremendously positive outcome. Right now, we seem to be walking in the wilderness."
Pierre Bose, International Wealth Management at Credit Suisse
Do you expect global market volatility to persist going forward?
"We do not think Friday marks an end to the global debate on trade policy and, as such, volatility can remain elevated and it will likely remain linked to threats of escalating trade tensions. Learning from the recent past we would also venture that beyond the headlines it will be the detailed implementation of tariffs that is equally important for investor sentiment e.g. granting of exemptions."
Which European markets are most risky and most appealing?
Credit Suisse is underweight euro-zone equities on concern about growth and earnings. Bose sees Germany as "most obviously at risk" from greater global trade friction, but since these fears are partly reflected in valuations, has a positive outlook for the DAX Index.
Bose also has a positive outlook on Spain as valuations already discount "significant bad news." Credit Suisse highlights Italy as being vulnerable to a further deterioration in economic data, earnings or risk appetite as a result of trade tensions. From a sector point of view, the bank is favorable toward those with a greater domestic bias, such as European real estate.
What is the best way to play the trade spat?
"For our clients we would in fact emphasize not trying to play this event directly. We differentiate between politics and fundamentals and remain more focused on the latter as the element of predictability is higher."
Credit Suisse favors emerging-market debt and stocks and recommends that clients who are worried about trade tensions hedge their portfolios via the Swiss franc and the Japanese yen.
Didier Borowski and other analysts, Amundi Asset Management

"If the base case materializes, we expect the impact of protectionist measures on world trade to remain contained and that global economic expansion will continue in 2018 and 2019. If talks and negotiations break down (trade war), we would expect to see deeper recessionary effects on the economy, especially for the countries more exposed to the targeted sectors, such as automotive."