Long-End Japan Yields Slide to Lowest Since 2016 as Funds Return
(Bloomberg) -- Japanese bond investors seem to have found a new sweet spot: long-dated domestic government notes.
Having gorged on currency-hedged European debt during the past months, investors from the Asian nation, led by life insurers, are seeking returns from longer-tenor Japanese securities, as the European Central Bank's dovish outlook keeps yields largely suppressed.
The proof is in the pudding: yields on 20-year and 30-year Japanese government bonds this week dropped to their lowest levels since 2016. Further, an auction of 30-year notes on Thursday drew the strongest demand since October 2012.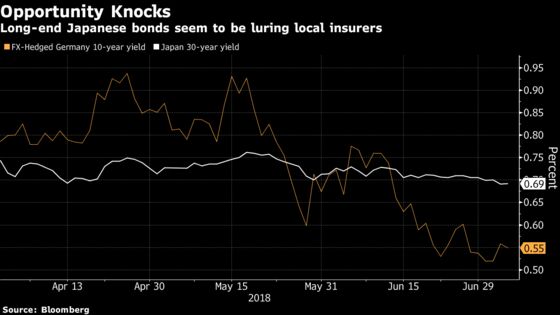 Rewind back to the last quarter, investment plans unveiled by major Japanese life insurers for the financial year that started April 1 showed there was a good appetite for more currency-hedged European debt.
Click here to read how Japanese investors have been piling into European bonds
And while Europe's improving economy and lower hedging costs compared with those on dollar investments may mean that the region's bonds remain a viable option for Japanese investors, for now the hunt for yield seems to be prompting some to return home.