It's 2008 Again for Corporate Debt Exposures. That's Bullish
(Bloomberg) -- Allocations to corporate credit have tumbled to the lowest since 2008 as funds pare risk amid monetary and economic angst, according to a Citigroup Inc. survey.
If you see the glass as half-full, it suggests money managers have room to increase holdings -- firming beaten-up debt prices.
"People think they have trimmed enough of their credit exposures so should be looking to buy in the second half of the year," said Christopher Chapman, credit strategist at Citi, whose firm polled real-money and hedge funds in late June.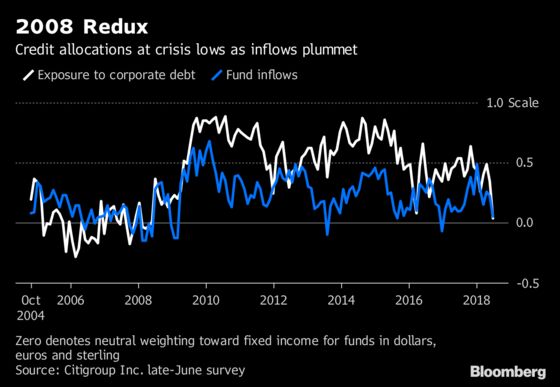 A slew of hedge funds are now underweight relative to benchmarks or selling securities outright -- spurring the sharpest reduction in overall holdings since the global deflation scare in early 2016.
On a net basis, investors in aggregate turned decidedly neutral from mildly bullish in May toward corporate debt in dollars, euros and sterling -- a volte-face from the aggressive positioning of the easy-money era. Dollar exposures have been cut by the largest clip, with the thinnest position in high-grade debt across currencies since the crisis, respondents to Citi's survey said.
Holdings, however, also reflect levels that preceded the short squeeze in 2016. And money managers who have loaded up on credit-default swap hedges have firepower to potentially deploy long positions in cash bonds.
"In many respects, we see positioning data as mean-reverting, with the natural credit position 0.4 -- anything below that is a bullish signal," Chapman said.
The data strike a chord with the torrent of redemptions from mutual and exchange-traded funds as economic headwinds prevail and money managers pare interest-rate risk in their portfolios.
Debt of peripheral nations and telecoms were among the biggest casualties of allocation cuts, according to the Citi poll. Relatively defensive sectors, by contrast, like utilities, covered bonds and -- from a high-yield perspective -- leveraged bonds were in favor.
Going forward, the bar for a swift return to bullish positioning is high.
"To see a repeat of 2016, you need an aggressive response by central banks or inflows," said Chapman. "Credit isn't a perpetual motion machine, it can't by itself rip tighter -- it responds to external inputs."