Holiday Markets Get Captain for the Drifting Ship: Taking Stock
(Bloomberg) -- Mixed equity markets seen over the U.S. Independence day holiday are no longer a rudderless ship, as the U.S. session gets set to open up near 0.5 percent on the back of a softening trade tone -- with Europe at least. Chinese and Asian markets are a different story, as there is no sign of waning tensions with the U.S. one day ahead of the scheduled implementation of $34 billion worth of tariffs on Chinese goods, as well as China's reciprocal efforts on that exact amount. And breaking now, Boeing came to terms with Embraer regarding a possible deal between the entities that involve the creation of a joint venture. This follows months of wrangling between the two, including receiving approvals from various Government agencies.
Reports that U.S. Ambassador to Germany Richard Grenell told German carmakers he was asked by Washington to reach a solution regarding tariffs has auto companies leading gains early -- especially those with heavy European exposure like Autoliv and its recent spinoff Veoneer. Fiat-Chrysler is up 5 percent (Jefferies also upgraded the shares on valuation) while Ford leads U.S. names. Great timing, considering auto sales figures Tuesday did little to boost shares in the sector.
As mentioned in Monday's Taking Stock, it's a macro week. The FOMC minutes and ADP Employment figures are both expected today and will be watched for any indications of trade war impacts. Granted, the minutes are from the June meeting -- dated in the context of our daily swings on every minute trade-related detail, but in the context of recent hawkish indications at the ECB emanating from a Bloomberg story, participants will be closely watching nevertheless. 10-year yields have recovered early, erasing some of the rapid decline seen midday Tuesday that boosted telecom, REITs, utilities and other rate sensitive names.
The Tuesday tumult, comprised of the sudden $2+/bbl sell-off in WTI crude in a matter of minutes and an 8 percent downdraft in Micron shares, sets up opportunities Thursday as the thin and whippy market may have led to a touch extra choppiness.
The oil market Wednesday had a chance to process the coincidentally timely reports from Genscape and the Saudi press, which alluded to bearish supply indications. Energy stocks had outperformed Tuesday as WTI hovered above $75 (highest since Nov. 2014), and will look to DOE figures Thursday to confirm key Cushing stockpiles for any follow-through above that level.
The apparent surprise China court ruling banning sales of certain Micron Technology chips to China reverberated far and wide, dragging the Nasdaq lower right into the close. Details are scant, but the collateral damage was not. European peers underperformed Wednesday on fears this could escalate worldwide trade tensions. Also caught up in mix were some of Micron's key suppliers, which, according to data compiled by Bloomberg, may include Lam Research, Applied Materials and KLA-Tencor, to name a few. With approximately 50 percent of Micron's sales last year coming from China, it may be fair to say shares in some of those suppliers may see some additional volatility as trade gets under way. NXP Semiconductors, a frequent trade tension proxy given its pending deal with Qualcomm, could see some read-through. Many large cap technology names are in the green in the pre-market while Micron looks set to open lower.
While technology stocks bore the brunt Tuesday, Gold miners were clearly some of the best performers. Solactive Select Junior Gold Miners GTR index rose nearly 4 percent as gold prices bounced from their 2018 lows. But what about copper? The base metal has declined more than 14 percent his year and sits at levels not seen since mid-2017, in part due to the theory that its fate is tied to China and trade. The growth harbinger (Dr. Copper as its frequently known) has sent some scary signals thus far, tracking with another growth engine, the Dow Jones Transportation index, but Goldman Sachs isn't entirely buying into that notion. They have a note out attempting to discrediting that concept in today's circumstances and forecasting returns of 10 percent in commodities, writing "trade war impact on commodity markets will be very small" and the trade war/weak emerging demand/OPEC supply "concerns have been oversold."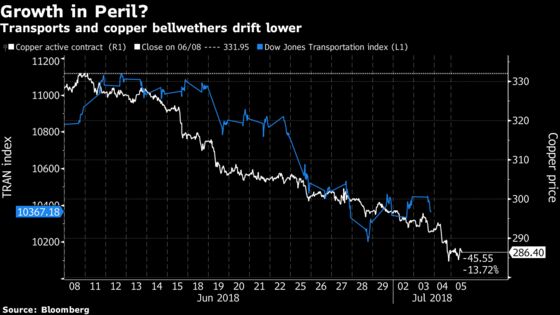 Despite rising oil prices and trade war concerns, Morgan Stanley is out with positive commentary on the shipping and transports sector, indicating bullishness within the sector, from demand to rates optimism. Analysts note that current demand, supply, and rate sentiment are at new all-time highs for freight, with an expectation for 10% rate increases in 2018.
Alibaba has fallen nearly 11 percent over the past two weeks, partly due to the yuan's weakening in China, but MKM analysts point out that the stock has "meaningfully" corrected in prior instances of currency weakness. They see the current environment as a buying opportunity as the company relies heavily on domestic consumption and little on cross-border activity.
Tick-by-Tick Guide to Today's Actionable Events
7:30am -- ISCA earnings
8:15am -- ADP Employment Change
9:45am -- Markit PMIs
10:00am -- ISM Non-Manufacturing
2:00pm -- FOMC minutes from June 13 meeting
4:00pm -- PSMT earnings