Go On, Buy the Dips in Stocks, Says Citi, Which Still Favors EM
(Bloomberg) -- Citigroup Inc. says it's too early to say the bull market in stocks is over, and even after a rising dollar dealt emerging equities a blow this year, they're still the bank's favorite value trade.
"So keep buying the dips," Citigroup strategists including Markus Rosgen said in a report, adding that they see global stocks rising 9 percent over the next 12 months, led by continental Europe and emerging markets. Despite recent dollar strength, "rising U.S. fiscal and current-account deficits will eventually prove a drag," and a weaker dollar should help emerging markets and U.S. equities outperform, they said.
Citi is overweight U.S., emerging market stocks
Neutral U.K., Europe (excluding the U.K.)
Underweight Australia and Japan
The dollar's relentless rise struck shares across developing nations particularly hard, bringing losses this year to 9 percent, about 12 times the drop in global equities. The sell-off drove valuations last month to the lowest in more than two years. The strategists see the index the gauge rising 19 percent over the next 12 months.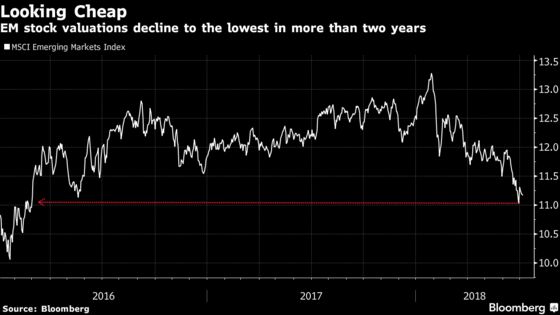 "Our emerging-market overweight offers useful balance to our more expensive U.S. overweight," the strategists said. They see earnings-per-share growth in 2018 at 17 percent. "The recent sell-off leaves emerging-market valuation looking attractive."
Latin American has the highest earnings-per-share growth rate of 32 percent in emerging markets, followed by emerging Europe, Middle East and Africa at 20 percent and Asia at 14 percent
Within emerging markets, Citi is overweight Korea, Taiwan, Russia, Brazil and Thailand. It's neutral China and underweight India, Indonesia, Malaysia, South Africa, Mexico, Turkey and Poland
Citi sees four developed-market central banks raising rates by the end of 2018, compared with 28 in emerging-markets