Bargain Hunters Move to European Stocks Hoping for Car Deal
(Bloomberg) -- Just as things looked grim for European equities, they caught a much-needed break.
Shares in the region rallied on Thursday, led by the auto sector, following a report saying U.S. President Donald Trump may not follow through a threat to impose tariffs on European cars. That brought much-needed relief to an export-dependent market which has sunk amid growing concerns the world's largest economy will raise trade barriers.
"The report shows that, despite all the tensions, there are talks going on in the background, and we may see deals at the end to avoid a real trade war," Pierre Martin, Saxo Bank trader in Zurich, said by phone. "So this is clearly a positive catalyst today for markets, even though it might not be enough to really start a new bullish trend for stocks given that there's still a lot of uncertainties."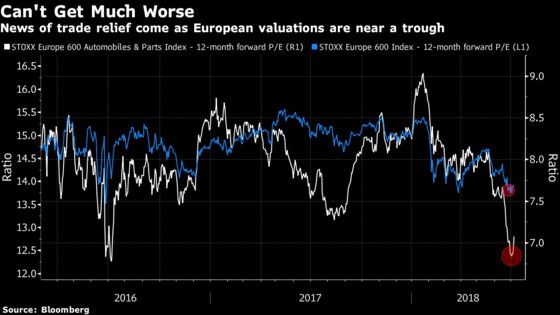 A breather in the trade conflict could turn things around for European equities, partly because investors are so cautious that valuations have slid near the cheapest in two years. But, of course, it will all depend on how the trade spat between the world's two largest economies progresses. U.S. tariffs on some Chinese goods will take effect on Friday, and any impact on global economic growth would likely weigh on Europe as well.
Metzler automotive analyst Juergen Pieper said U.S. tariffs on the European auto sector are still more likely than not, but the market reaction over the past few weeks has been "hysterical." "The most undervalued stocks are Volkswagen AG among German carmakers and Leoni AG and Hella GmbH & Co. among parts suppliers ," he said by phone.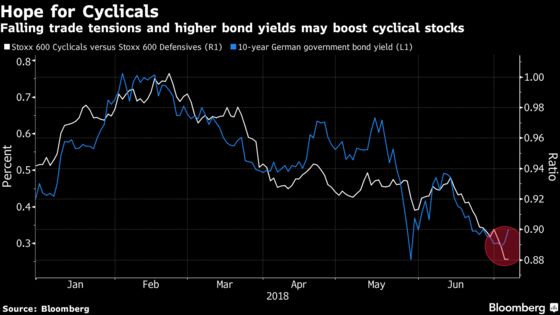 Positioning in European shares has been especially conservative, with global funds leaving the region and their discount to U.S. stocks widening. Of course, it's not just the trade war: investors are also concerned about political risks and the growth outlook.
European cyclical shares, which have suffered amid trade concerns recently, rebounded on Thursday, with basic resources and tech sectors up more than 1 percent. Banks -- the second-largest weighting on the equity benchmark -- rose along with bond yields on expectations Europe will raise interest rates sooner than expected.