U.S. Banks Weak Again After Worst Reversal in Nearly Three Years
(Bloomberg) -- U.S. financials are still nursing their June hangover.
The Financial Select Sector SPDR exchange-traded fund is trading to the downside yet again in early trading Monday, weighed down by Citigroup and Bank of America. The drop follows the KBW Bank Index's dramatic Friday that delivered the biggest intraday reversal -- from up as much as 2.1 percent to ending in negative territory -- since Aug. 25, 2015. The measure sank 1.9 percent for the month.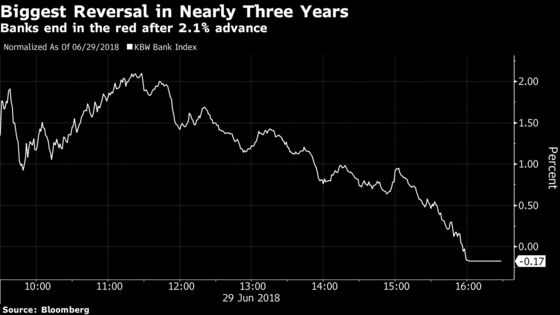 The August 2015 reversal proved the culmination of an inauspicious streak of selling that saw the S&P 500 Index fall more than 10 percent in six sessions as the aftershocks of China's devaluation of the yuan roiled markets. The financials were up more than 3 percent and proceeded to finish down 1.7 percent that day.
Friday's swoon in the banks, however, proved much more perplexing to strategists, as it occurred amid a modest rise in 10-year Treasury yields and a marginally steeper yield curve.
Dave Lutz, head of ETFs at JonesTrading Institutional Services, said that end of quarter selling afflicted the financials, with portfolio managers dumping the group to avoid having to explain to clients why they own them.
And with the 10-year yield moving lower and spread between two and 10-year Treasuries back to narrowing on Monday, the group is under pressure again. The KBW Bank Index was down more than 0.7 percent in early trading before paring most of its losses by 10:15 a.m. New York Time. Weak economic data out of China and intensifying trade rhetoric added to Monday's selling in equities around the world.