These 10 Stocks Account for All of the S&P 500's First-Half Gains
(Bloomberg) -- Big tech stocks are still doing the heavy lifting when it comes to S&P 500 Index returns.
David Kostin, chief U.S. equity strategist at Goldman Sachs, highlighted that more than 100 percent of the S&P 500's total return of nearly 3 percent in the first half is attributable to just 10 equities. Amazon.com Inc. alone accounts for roughly two-fifths of the benchmark gauge's advance.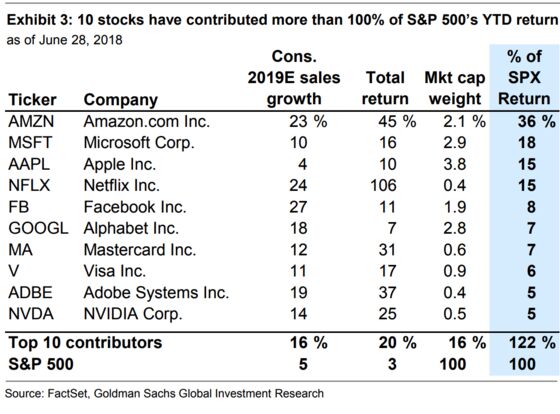 These results testify to the continued success of large growth stocks, notes Kostin, who expects strong performance going forward from firms on a stable financial footing.
"In contrast with history, many of the companies with the strongest balance sheets today are also the firms with the strongest growth," he writes.
Of course, it's not unusual for a fairly small number of stocks to deliver the lion's share of gains in indexes weighted by market capitalization, a trend AQR Capital Management's Cliff Asness unpacked thoroughly.