SocGen Finds Plenty to Like in Chinese Equities
(Bloomberg) -- Societe Generale is finding reasons to be optimistic about Chinese stocks after they plunged into a bear market.
Frank Benzimra, the head of Asia equity strategy at the investment bank, says it's one of his preferred markets in the region and finds valuations to be attractive. He sees only "limited" downside to Chinese equities unless the economy suffers a hard landing.
The severity of the selloff in Chinese equities, which has occurred amid a nascent trade war between the world's two largest economies and a slowdown in domestic growth indicators, implies that profits will fall next year. But prices already reflect that, even if analysts' estimates haven't caught up.
"The market is discounting a 5 percent decline in next year's earnings, versus the close to 15 percent growth currently expected by the consensus," he said. "From an equity investment angle, however, there is a very large difference to what we saw in summer 2015, when the market fell more than 40 percent: the valuation."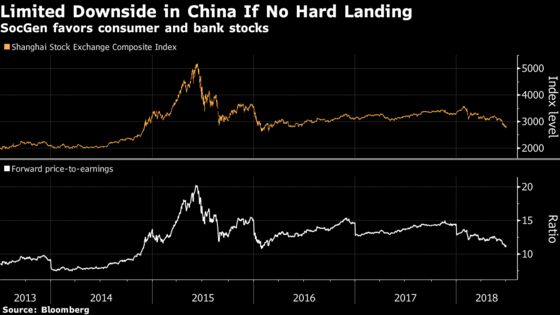 Benzimra acknowledges the possibility that the sell side will have to play catch up and lower its profit expectations should the effects of a move toward protectionism impact activity.
"The trade war is a risk, and perhaps even a reality, but the bigger story has been the rebalancing from investment to consumption," he writes. "Consumer stocks have been the relative outperformers in the correction, and we expect them to remain so."
Societe Generale recommends buying onshore consumer stocks and banks. Financials are trading close to their October 2014 lows based on a price-to-book value -- though there's always concern as to the accuracy of the reported value of their assets.
Benzimra opts to hedge the risk of escalating tensions with the U.S. via a basket of producers and transporters that stand to be the most adversely affected.