Options Pessimism Shows AMLO Isn't Winning Over Markets Quickly
(Bloomberg) -- Mexican president-elect Andres Manuel Lopez Obrador's conciliatory language toward the world of business isn't cutting ice with traders of currency options.
Lopez Obrador assured investors he will govern Mexico as a pragmatist and won't nationalize companies. Yet the peso fell after confirmation of his victory in Sunday's elections. Options traders took the cue, making one-month contracts to buy the U.S. dollar against the peso the most expensive since April 26 against contracts to buy the peso.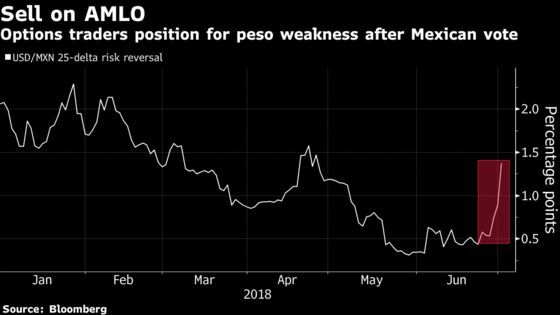 The 25-delta risk reversal, which tracks the difference in volatility between call and put options on the dollar-peso pair, rose to 1.375 percentage points. That spread was heading for the biggest three-day increase since March 2017.
The options market's reaction to Lopez Obrador's election contrasts with its move after the victory of Recep Tayyip Erdogan in Turkey, when the risk-reversal measure tumbled to a six-week low. The lira proceeded to post the best weekly performance in emerging markets.