Nestle vs Dan Loeb: the Art of the Deal
(Bloomberg Opinion) -- Nestle SA saw off an assault from Dan Loeb last year by conceding a little ground. The Swiss consumer goods giant can probably use the same tactic again now that the activist behind Third Point LLC has stepped up his attack. That's a shame. Loeb's arguments still stack up.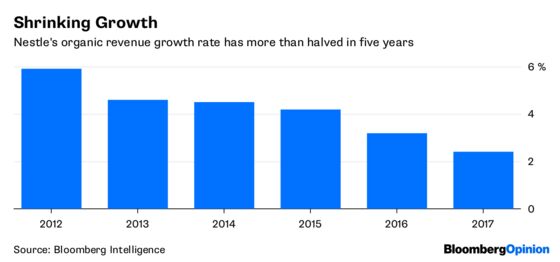 Nestle's problem? A seeming shortage of growth: between 2012 and 2017 annual organic sales growth slowed to 2.4 percent from 5.9 percent. This masks a division between hot properties like Nespresso coffee capsules and laggards like frozen food.
Loeb's prescription, first outlined a year ago, is for Nestle to sell slow-growing operations and offload its 23 percent stake in L'Oreal SA. It could then use the proceeds to buy the sort of fast-growing brands favored by millennials and return the change to shareholders.
Nestle budged – but only a bit, issuing new margin targets and accelerating a 20 billion Swiss-franc ($20 billion) buyback. The slow progress, Loeb argues, suggests Nestle's governance and structure hamper bold decision-making.
It's hard to disagree. The last year could scarcely have been a better time to jettison unloved consumer assets. Unilever NV agreed to sell its spreads business to KKR & Co. in December, and a month later Nestle offloaded its U.S. confectionary business to Ferrero at a good price. If only it could manage a few more disposals like that.
The 27 billion-euro ($31 billion) stake in L'Oreal does nothing for the rest of Nestle's portfolio and, given the founding family's stake, there's no obvious path for Nestle to take full ownership. With the French cosmetics producer's shares up 14 percent over the last year, the case for an exit is as strong as ever.
Nestle's governance is a recipe for stasis. Chairman Paul Bulcke was CEO until the end of 2016 – hardly a helpful context for new boss Mark Schneider to break with the past. The structure is a matrix of regional and product heads. Loeb wants this simplified around beverages, nutrition and groceries. Maybe that will work, but there's no evidence that any particular way of arranging things is a panacea for companies this big.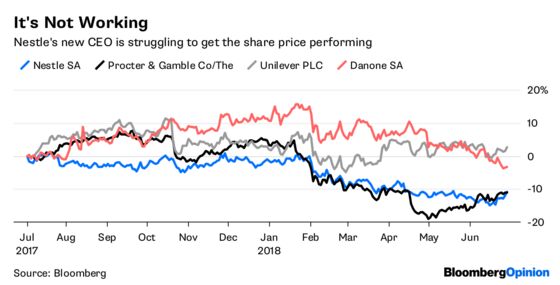 The real problem looks to be that Nestle just doesn't want to shrink. It will immediately come under pressure to return any proceeds from disposals to shareholders, when it would much rather keep them judging by the fact that the balance sheet is stronger than it needs to be. Nestle could sacrifice its double-A credit rating and still have capacity to borrow for a large acquisition.
On simple price-earnings metrics, Nestle's valuation looks high relative to peers. If it had a tighter balance sheet and a portfolio more concentrated around growing brands, it would in all likelihood command a more pronounced premium.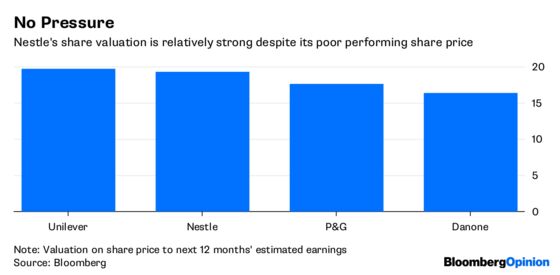 Loeb has strong arguments, but you need real power to effect change, and a stake of little more than 1 percent doesn't cut it. He needs to get others on board.
The snag is that there is so much Nestle can do that it may only require another little burst of piecemeal activity to win over other critics on the register. An activist can get a lot done with a big or clever idea. This looks set to be a long war characterized by occasional small victories.