Leveraged Loan Buyers Face Better Prospects with More New Deals
(Bloomberg) -- More new money deals are flowing into the U.S. leveraged loan market, with these offerings outnumbering repricings and refinancings last month for the first time since September. The shift indicates improving supply-demand dynamics in favor of investors.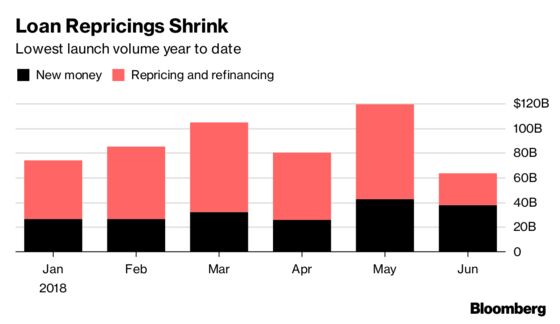 About $64 billion of institutional loans were launched in June, down from $120 billion in May, according to data compiled by Bloomberg. Behind this drop was a 66 percent plunge from May in repricing activity to $26 billion, while new money launches dipped 12 percent to $37.5 billion.
Despite the drop in nominal issuance due to repricings tapering, the last two months combined saw $80 billion of new money launches, more than any linked months in years. And that surge gave investors options when purchasing loans, allowing them to extract better terms.
The pipeline for loans is "busy, backlog is up, deal flow is relatively robust," Christina Minnis, co-head of Goldman Sachs Group Inc.'s Americas credit finance group, said in a telephone interview.
For most of 2018, demand for floating-rate loans has exceeded supply. Issuers took advantage of that imbalance to reprice margins lower, boost leverage, weaken covenants and other lender protections. That began to change in May when both corporate and private-equity dealmaking made its way to the market, with a discernible uptick in new money launches that extended into June.
This rise in new money gave loan investors the opportunity to ask for more.
For example, Lifescan Global was forced to boost pricing and the OID on $1.75 billion of loans backing its buyout by Platinum Equity. BMC also raised the yields on its $3.375 billion dollar term loan and $1 billion equivalent euro term loan that funds it buyout by KKR.
In all, 39 institutional loan tranches flexed pricing wider in June, while 25 tightened. That's a reversal from May when 26 flexed up and 38 flexed down, Bloomberg data show.
There was a pickup in second-lien loans, which are a popular alternative to high-yield bonds for sponsors and private credit shops pursuing LBOs. Second-lien launches rose to $5.72 billion in June from $4.5 billion in May. More than $21.65 billion of second-lien loans have been launched so far in 2018, compared to $16.6 billion in the same period last year.
The uptick in new issuance took its toll on the U.S. secondary loan market, which is now close to giving up all of its gains for the year. The S&P/LSTA Leveraged Loan Price Index fell to 98.05 on June 29, giving up almost all of its rise for the year. Loan returns however remain positive at 2.14 percent for the year.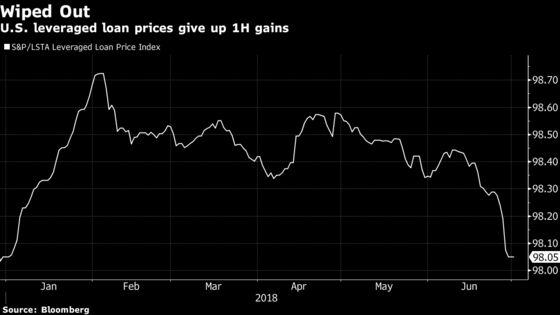 Despite pushback in the primary loan market and a decline in secondary prices, demand for floating-rate debt remains robust. New CLO issuance was at $16.7 billion last month, slightly down from $18.7 billion in May, which was the most in three years. Loan mutual funds and ETFs have seen 19 straight weeks of inflows, with year-to-date inflows at $11.98 billion, according to Lipper.
Investors should be careful what they wish for. The improved demand-supply imbalance may mean that leveraged loans may become more susceptible to the volatility that has gyrated high-yield bonds and equities this year.