China's Rebound Gone Within a Day With Even Biggest Stocks Crumbling
(Bloomberg) -- China's stock investors seized on Friday's rebound as a chance to sell, with equities lurching lower in afternoon trading to the weakest close in two years.
The Shanghai Composite Index slumped 2.5 percent on Monday, more than wiping out a 2.2 percent rally on Friday. That follows a pattern over the past few weeks, where any gain has been erased the following day. In a further sign of capitulation, state-owned giants are bearing the brunt of the declines, with index heavyweight Industrial & Commercial Bank of China Ltd. plunging the most since February.
The list of negatives facing the $6.6 trillion stock market is growing. The economy is already showing signs of vulnerability to a U.S. trade war before new taxes are levied at the end of this week. Analysts and investors alike are struggling to keep up with the yuan's descent, while there's been little sign of heavy state intervention to stem the slump in either stocks or the currency. Concern is also growing over the health of the country's massive property market.
"Sentiment will remain bad in the near term," said David Qu, economist at Australia & New Zealand Banking Group Ltd. in Shanghai. "The market doesn't hold high hopes that China and the U.S. will find a way out before the tariffs are imposed."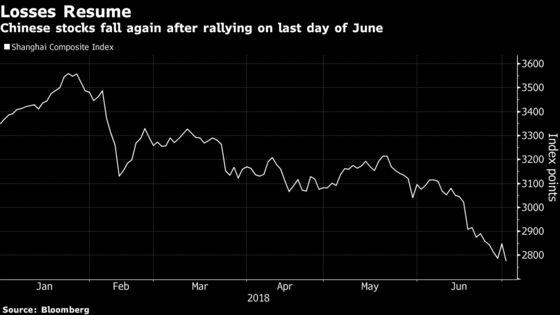 The Shanghai Composite has only risen on four days out of the past 15, and on each occasion the gauge has closed lower the following trading session. A momentum indicator is near a five-year low, while losses in Chinese bourses have topped $2 trillion since January's peak. In percent terms, the Shanghai measure is the world's worst after Argentina with a 22 percent retreat in the period.
"It would be a bad time to buy right now as pessimism prevails," said Liang Jinxin, Shanghai-based strategist with Tianfeng Securities Co.
The yuan weakened 0.5 percent to a seven-month low. Bets are rising that the central bank will allow the currency to continue weakening provided selling remains orderly, with ING Groep NV cutting its forecast for the second time in a matter of days. Its new year-end projection of 7 per dollar would be the lowest level in a decade.
Poly Real Estate Group Co. , one of the country's largest developers, sank the most since August 2015 on Monday. Developers have been under pressure as the government stepped up measures to curb real estate speculation and restrict developers' international bond issuance.
"There was no real catalyst behind the gain on Friday, and was only a technical rebound after a massive sell off," said Gui Haoming, an analyst at SWS Securities Co. "We can see through the low trading volumes that the market is still very cautious, and there is nothing there to spur the market into a different direction in the short term."