Indonesia Favors Rupiah Stability Above Growth in Rate Move
(Bloomberg) -- Indonesia's central bank is showing its willingness to sacrifice economic growth for currency stability in its latest aggressive move on interest rates.
Bank Indonesia surprised economists with a bigger-than-forecast 50 basis-point hike on Friday, on top of two rate increases in May aimed at halting a currency rout. That takes the benchmark rate to 5.25 percent, with analysts betting there's more tightening to come.
Southeast Asia's biggest economy has been among the hardest hit in the region following a sell-off in global emerging markets triggered by rising U.S. interest rates. The rupiah has slumped more than 5.7 percent against the dollar this year.
Before the market turmoil, Bank Indonesia had been cutting interest rates to spur spending, lowering the key rate eight times since 2016, but with little success in boosting economic growth much higher than 5 percent. That underscores the challenge for policy makers as they try to stabilize the currency while providing enough support to the economy as President Joko Widodo seeks a second term in office in an election next year.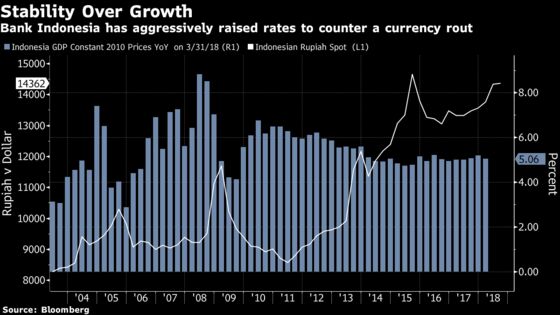 "There should be no doubt in the market's mind about the determination of the new governor to hike further if needed to defend the rupiah," Khoon Goh, head of Asia research at Australia & New Zealand Banking Group Ltd. in Singapore, said on Friday after the decision.
But there is a cost that comes with the aggressive tightening, Goh said, adding whether the 50 basis points move is enough will still depend on the broader environment, but BI has shown that they are willing to sacrifice some near-term growth for rupiah stability.
The rupiah gained as much as 0.6 percent against the dollar on Friday after the rate decision and was down 0.4 percent to 14,390 as of 12:10 p.m. in Jakarta on Monday. The benchmark Jakarta Composite Index gained 0.12 percent after rallying 2.3 percent on Friday.
Bank Indonesia Governor Perry Warjiyo on Friday again pledged a monetary policy stance that's pre-emptive, front-loading, and ahead of the curve. To mitigate the risk to the broader economy, the central bank also eased some macro-prudential measures, such as relaxing limits on loan-to-value ratios for property to allow banks to boost lending on home loans.
What Our Economists Say...

Bank Indonesia is supporting domestic demand by relaxing loan-to-value rules, which come into effect on August 1. Even if the rupiah stabilizes in the short-term, we expect more rate hikes as long as the current account deficit continues to widen and the Federal Reserve keeps raising interest rates.
-- Tamara Henderson, Bloomberg Economics
Finance Minister Sri Mulyani Indrawati has said the government is willing to accept slower economic growth as a trade-off for stability.
While the economy has been growing at about 5 percent, that's well below historical levels and lower than the 7 percent Widodo had targeted when he took office. Inflation is also low by Indonesian standards, with consumer prices rising 3.1 percent in June, the slowest pace of growth since December 2016.
Euben Paracuelles, an economist at Nomura Holdings Inc. in Singapore, said the central bank's hawkish tone remains intact and the focus will shift to fiscal policy to provide support to the economy.
"There is scope for targeted macro-prudential measures to provide some offset," he said. "Importantly, I think this is when fiscal policy needs to do some more heavy-lifting to boost growth and they have scope for that too."