U.S. Stocks Fall on Tech Weakness; Oil Rises: Markets Wrap
(Bloomberg) -- U.S. stocks reversed an early climb and ended lower Tuesday, as weakness in technology and financial shares weighed on benchmarks. Oil briefly rose above $75 a barrel for the first time since November 2014 before paring the gain.
All major equity benchmarks dropped, with the S&P 500 Index stumbling after a Chinese court temporarily banned Micron Technology Inc. chip sales in the country. The Nasdaq 100 Index plunged on the news, ending down more than 1 percent. U.S. stock markets closed at 1 p.m. in New York, while the bond market shut at 2 p.m.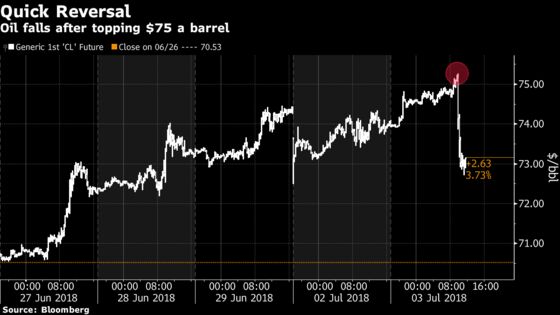 The dollar retreated. In China, an earlier pledge by the governor of nation's central bank not to use the yuan as a weapon in any trade dispute assuaged some fears and helped it reverse losses. That boosted developing-nation currencies overall, though Turkey's lira slumped after inflation data. The Swedish krona strengthened as the country's central bank stuck to its plan to start lifting interest rates.
Meanwhile, the global trade spat between the world's biggest economies appeared to be worsening, with President Donald Trump taking measures to prevent China Mobile Ltd. from entering the U.S. market.
"It certainly looks like there will be no deal before the tariffs take effect, at least the first round of $34 billion," said John Vail, chief global strategist at Nikko Asset Management. "I think negotiations will start after that to perhaps prevent any further escalation, but for the first part it looks like it's going to happen."
Telephone companies led an advance in the Stoxx Europe 600 Index, while miner Glencore Plc headed for the biggest decline in two years after saying it was subpoenaed by the U.S. Department of Justice. Commodities climbed as metals recovered after losses that saw platinum drop to the lowest in nine years.
Terminal users can read more in Bloomberg's Markets Live blog.
These are key events coming up this week:
The U.S. celebrates Independence Day on Wednesday, July 4. Stock and bond markets are closed, along with government offices.
Federal Reserve releases minutes of its June 12-13 meeting, when FOMC policy makers raised the benchmark rate a quarter point for the second time this year and lifted the median forecast to four total increases in 2018.
U.S. payrolls are due Friday.
Also on Friday, the U.S. is scheduled to impose tariffs on $34 billion of Chinese goods. Beijing has said it will slap tariffs on an equal value on U.S. exports including agricultural and auto exports.
Here are the main market moves:
The S&P 500 fell 0.5 percent to 2,713.29, while the Nasdaq 100 Index dropped 1.2 percent.
The Stoxx Europe 600 Index gained 0.8 percent.
The MSCI All-Country World Index was little changed.
The MSCI Emerging Market Index added less than 0.1 percent.
The Bloomberg Dollar Spot Index declined 0.6 percent as of 4:09 p.m. in New York.
The euro gained 0.1 percent to $1.1651.
The British pound climbed 0.2 percent to $1.3170.
The yield on 10-year Treasuries slid three basis points to 2.8364 percent.
Germany's 10-year yield dipped one basis point to 0.294 percent.
Britain's 10-year yield fell one basis points to 1.243 percent.
The Bloomberg Commodity Index increased 0.2 percent.
West Texas Intermediate crude slipped 0.2 percent to $73.79 a barrel.
Gold jumped 0.9 percent to $1,253.42 an ounce, the largest climb in four months.