Najib's Party Picks Ahmad Zahid to Lead Malaysian Opposition
(Bloomberg) -- The party of ousted Malaysian Premier Najib Razak has chosen his former deputy, Ahmad Zahid Hamidi, as its new president to lead reform after a shock election loss in May ended its six-decade rule.
Zahid won with at least 78 votes in the first open contest for the presidency of United Malays National Organisation, Secretary-General Tengku Adnan Tengku Mansor told reporters in Kuala Lumpur early on Sunday. There are 34 divisions still to be counted from the total 190, with one being disqualified due to too many discrepancies, he said.
Voting began Saturday morning to decide between five candidates including former Sports and Youth Minister Khairy Jamaluddin and ex-Finance Minister Tengku Razaleigh Hamzah. Earlier unofficial count showed Zahid with 93 votes.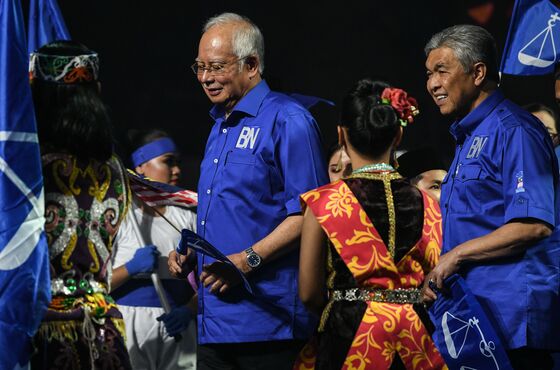 Zahid, 65, rose up through the ranks to become Najib's second in command in 2016, replacing Muhyiddin Yassin, who was dismissed for openly criticizing Najib over scandal-hit state fund 1MDB. While in government, Zahid last held the portfolios of deputy prime minister and home minister. Zahid took on Najib's duties after the ex-premier quit as party president following UMNO's defeat in the May general election.
On Friday, investigators said they have frozen bank accounts including those of UMNO in relation to funds embezzled from 1MDB. Zahid responded by saying he will seek to prove that the party's money isn't connected to any illegal fund activities, while Najib warned that political parties shouldn't be victimized as part of the investigation.
"The unreasonable action of freezing the bank accounts will disrupt the parties' activities and the rebuilding of the opposition party," Najib said in a Facebook post on Saturday.
Newly-installed Prime Minister Mahathir Mohamad is seeking to recover $4.5 billion that may have been lost through the state investment company, whose full name is 1Malaysia Development Bhd. The police seized about 1.1 billion ringgit ($272 million) of cash, handbags and jewelry in several raids at sites linked to Najib, who has consistently denied wrongdoing.
Zahid had earlier said he was contesting the top post out of a sense of responsibility. His campaign was anchored on preserving UMNO's core values of defending Malay rights, while repairing the party by forming an advisory council to the president, a task force to tackle grassroots complaints and an academy for building character among UMNO members.