The Good, Bad and Ugly of U.K. Stocks in the First Half of 2018
A slew of takeover offers triggered huge rallies in the likes of aerospace engineer GKN Plc and attention deficit disorder drugmaker Shire Plc, "clearly identifying U.K. assets as being relatively attractive," according to Hilary Aldridge, U.K. director at Deutsche Bank AG's asset management arm DWS, who spoke in a phone interview.
Meanwhile, any whiff of a profit warning was enough to send a number of stocks plunging by 20 percent-plus, continuing a theme of 2017. Investors are perhaps concerned that there are now real structural issues within a number of sectors, such as retail, and are therefore less willing to attribute declining earnings to cyclical factors, said Callum Abbot, who co-manages JP Morgan Asset Management Inc.'s U.K. Equity Core Fund.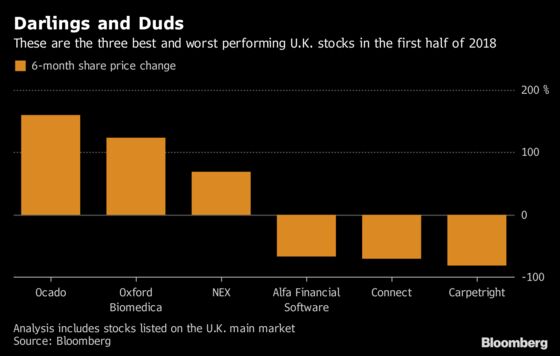 Looking to the next six months, Abbot sees value in U.K. airlines and travel stocks, as consumers continue to opt for experiences over material goods, he said by phone. Aldridge likes defense stocks, which she says are benefiting from U.S. President Donald Trump's increased spending in that area.
Investors should be more cautious on homebuilders, according to IG Group Chief Market Analyst Chris Beauchamp, amid concern over personal credit and the outlook for U.K. interest rates. "A lot of that sector is not looking as attractive as it once did," he said by phone.
Here's a curated list of the darlings and pariahs in the FTSE All-Share in the first half of 2018.
Ocado Group Plc: Up 160% (year-to-date)
After years of questions about its business model and huge short interest in the stock, Ocado came of age in the first half. The shares had started to climb towards the back end of 2017 when the online grocer signed the first of three international technology licensing agreements, but really rocketed when it inked a game-changing deal with U.S. grocer Kroger in May. The shorts were squeezed, the stock shot up and Ocado is now a FTSE 100 member with a tech-style valuation and a comparable market capitalization to J Sainsbury Plc.
Oxford BioMedica Plc: Up 124%
A consistent outperformer in recent years -- its stock rose 117% in 2017 -- Oxford BioMedica got a big boost in June when it signed a licensing deal with U.S. firm Axovant Sciences Ltd. for its OXB-102 gene therapy for treating Parkinson's disease. Jefferies cut its rating to hold after the news due to a lack of near-term catalysts, but noted that the company is moving towards generating a sustainable profit from its Kymriah cancer treatment deal with Novartis AG and is seeing more interest in its Lenti gene-therapy platform.
Gem Diamonds Ltd.: Up 69%
Diamonds are a diamond miner's best friend. Gem Diamonds had a run of incredible good fortune in the first six months of 2018 with huge stones being found time after time at its Letseng mine in Lesotho. That included the Lesotho Legend, the fifth-largest diamond ever found, which sold at auction for $40 million in March.
One of the scions of the London finance world, former Conservative Party treasurer Michael Spencer, agreed to sell up in March by accepting a 3.9 billion-pound ($5.1 billion) takeover from U.S exchanges giant CME Group Inc. NEX, the derivatives trading house formerly known as ICAP, was founded by Spencer in 1986 and he'll join CME's board after the deal, becoming an ambassador for the combined group.
The Russian steelmaker defied the odds in the first half. Its major shareholder, billionaire Roman Abramovich, had his visa delayed in May and the stock fell heavily earlier in the year when Russia faced a new round of sanctions. But so strong is demand for steel in nearly all markets and so much has Donald Trump helped prices with his threats of a trade war, that any concerns have been overshadowed and the stock has rallied.
Carpetright Plc: Down 81%
It was a dismal first half for many U.K. retailers. Carpetright had to go through a company voluntary arrangement to secure its future after a deterioration in trading left it close to breaching debt covenants. It was a similar story at Mothercare Plc, which sells products for mothers and babies, while suits and tuxedos merchant Moss Bros Group Plc warned on profit twice amid a softening consumer climate. A stalwart of British high streets, Debenhams Plc also had a miserable half filled with three profit warnings and concern over its debt level.
Connect Group Plc: Down 71%
The newspapers, magazines and books distributor made a charge into the red when it issued a comprehensive warning on its outlook in June. The firm, spun out of retailer WH Smith Plc in 2006, said business had been "extremely disappointing," including weak sales of products related to the soccer World Cup. It also saw both its chief executive and chief financial officer depart and cut its dividend. The shares lost two-thirds of their value in one day.
Micro Focus International Plc: Down 50%
The software firm's share-price descent started in January when it forecast declining sales and a weak outlook at the HPE Software business it bought in September for $8.8 billion. But that move paled next to the near-halving of value it suffered in March, when the company said its revenue decline would be worse than previously thought and announced the departure of its CEO.
Alfa Financial Software Holdings Plc: Down 67%
Keeping Micro Focus company among U.K. software firms having a terrible first half was Alfa Financial Software Holdings, London's biggest tech IPO in 2017. Two warnings included one in June described by Berenberg as a "worse-case scenario" for the company.
Funeral providers are not supposed to be volatile stocks. Dignity put paid to that in the first half. Its shares slumped in January when the company cut the prices of its funerals as the bereaved increasingly shop around. The stock made a comeback in March as customers continued to pick its full-price services, only to slip again in June when U.K. competition regulators said they intend to have a look at the funeral market.