The European Stocks Caught in the Crossfire of Trump's Trade War
(Bloomberg) -- European stocks are trapped in the melee that has erupted between the U.S. and China over trade, and the casualties are mounting.
Since President Donald Trump unveiled additional tariffs on Chinese imports two weeks ago and pledged additional investment restrictions -- prompting an immediate vow of retaliation from Beijing -- the Stoxx Europe 600 has shed 4.1 percent, expunging gains powered by the European Central Bank's dovish tone a day earlier.
So far, Trump has levies on $250 billion of Chinese goods in the pipeline, with duties on products from allies including Canada, Mexico and Japan already in place. On June 22, the European Union imposed its own tariffs on 2.8 billion euros ($3.2 billion) of American products in response to U.S. taxes on its steel and aluminum exports.
While no European sector has been spared in the market rout that has ensued, the damage is most visible in the automotive, technology and mining industries.
"With the trade war fears, investors increasingly question the validity of synchronized global growth, and this is particularly harmful for cyclical sectors," said Max Kettner, a cross-asset strategist at Commerzbank AG in London.
Tough Talk Turns Into Tariffs in Trade-War Evolution: Timeline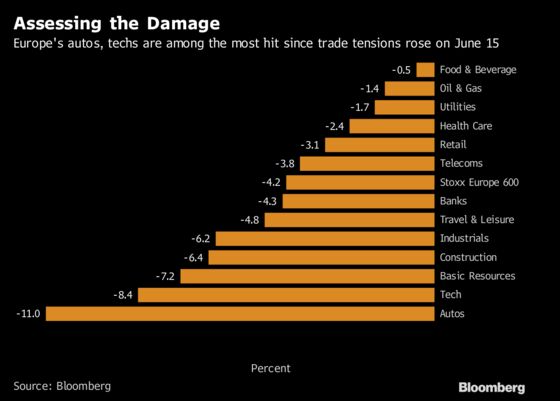 While the economic impact of the fallout is difficult to quantify, given potential second-round effects on aspects like business sentiment, prices and currencies, the prospect of an increase in U.S. tariffs on European cars to 25 percent alone could shrink gross domestic product in the euro area by at least 0.3 percent a year, according to Bank of America-Merrill Lynch strategists.
Here are more details on the impact for the three sectors:
The Stoxx 600 Autos & Parts Index has fallen 11% in two weeks, wiping out almost $40 billion of the sector's market value; shares of BMW AG and Daimler AG are down at least 16% since mid-May.
Daimler became the first major global company to cite U.S. trade tensions as a threat to its profits, saying 2018 earnings will fall rather than rise. Its warning came before Trump issued a scaled back threat of a 20% tariff on German vehicles on June 22 if the EU doesn't remove "tariffs and barriers" on U.S. companies.
Osram Licht AG, which manufactures lights for the auto industry among other goods, warned about a weakening outlook for the car industry, saying sales and profit will be lower than previously expected because of possible trade barriers. The bleaker forecast sent its shares tumbling more than 20% on Thursday, increasing their losses to more than 50 percent since the start of the year.
"Trade tensions are poison for the German export champions," Bankhaus Metzler analyst Juergen Pieper said by email.

Trump tariffs will probably come, but -- even at 20% -- they shouldn't cost the German OEMs more than 4%-6% of their operating earnings, mostly as a result of lower sales volumes as they will try to pass on tariffs to customers; suppliers will face roughly half of that impact: Pieper
The bigger risk by far would be new Europe/China tariffs, but these are unlikely: Pieper

Volvo Car Group's owner has warned consumers will suffer from rising costs if carmakers need to start building factories in each market to avoid tariffs; he said Volvo and his Chinese brand Geely would be hit if tensions escalate as both companies export and import cars between the U.S. and China.
The U.S. accounted for 5.6% of Volkswagen AG's namesake-brand sales in the five months through May, compared with 14% for BMW, including the Mini division, and 13% at Daimler's Mercedes-Benz brand.
Daimler and BMW, the world's two biggest makers of luxury cars, both have their largest sport utility vehicle factories in the U.S. BMW is the biggest U.S. car exporter by market value, with $10 billion of shipments in 2017.
Many suppliers to the sector are also impacted. Click here for Daimler's supply chain and here for BMW's supply chain.
Click here for a Bloomberg Intelligence analysis of the impact of potential tariffs on European carmakers.
The U.S. has placed tariffs of 25% on steel and 10% on aluminum; European steelmakers worry about indirect consequences such as cheap Chinese metal previously destined for the U.S. that could end up being redirected to Europe.

The CEO of Thyssenkrupp unit Acciai Speciali Terni said about 10% of its revenue is at risk without measures from the EU to safeguard producers from a flood of such imports.
The EU has widened its probe into possible curbs on steel imports, adding two product categories; EU trade chief Cecilia Malmstrom has said limits could be imposed by mid-July; Canada is also preparing new measures to prevent a potential flood of steel imports.

It's not all bad news for the European steel sector however, according to Deutsche Bank:

"Should safeguard measures be implemented, this situation would be de-risked and hence safeguard measures could allow prices to rally off an already high level and lead to further earnings upgrades," its analysts wrote in a note, saying that European steel companies may emerge as "net winners" from the trade frictions.

Steelmakers are also in the spotlight due to potential U.S. tariffs on the auto sector.
Overall, base metal prices have struggled amid fears that a full-blown trade war would damp demand, particularly from China. Copper is down 7.8% over the past two weeks, while iron ore has lost 3% and zinc is down 9.1%, dragging down shares of global mining companies, which had been among the top performers in 2018 until mid-June.
Among steelmakers, ArcelorMittal and Thyssenkrupp AG have lost 13% since June 14; among global miners, Rio Tinto is down 5%, BHP Billiton has lost 3.5% and Glencore has dropped 10%; the recent sell-off has pulled the basic resources sector's price-to-earnings ratio to its lowest level in 12 months.
UBS analysts says it prefers less-leveraged miners BHP Billiton and Rio Tinto in an uncertain environment stemming from the U.S.-China trade dispute and economic growth questions.
After unveiling a series of new tariffs on Chinese goods, the White House this week has moved forward with plans to limit Chinese investments, but chose a less confrontational approach than initially feared. That didn't prevent tech stocks from dropping further.
A "trap door" has opened under the sector, said Tom Essaye, a former Merrill Lynch trader who founded "The Sevens Report" market newsletter.

"The trade/tariff rhetoric has now shifted to more of a tech discussion regarding foreign investment in U.S. tech companies," he wrote in a note, saying the uncertainty regarding that policy, combined with recent soft earnings, is spooking investors.

The damage has mostly been in the semiconductor industry, on both sides of the Atlantic, amid mounting worries over risks of supply chain disruptions.
The Stoxx 600 Technology Index and the Philadelphia Semiconductor Index have both dropped more than 8% over the past two weeks; Infineon Technologies AG and STMicroelectronics NV are both down 17%
"The China tariffs situation appears to be a wildcard, with rules expected to take effect on July 6, and a wide range of expected outcomes for the semiconductor industry," Ruben Roy, managing director at MKM Partners, wrote in a note.