Strategists See a Blowout Second Half, But Investors Aren't Buying It
(Bloomberg) -- A global trade war is looming and emerging markets are plunging. Time to pile into U.S. stocks.
That's the message from Wall Street prognosticators, who have stuck with full-year forecasts during a first half that's been anything but smooth. After a torrid start to the year, the S&P 500 plunged into its first correction since 2016 and spent the next four months struggling to recover. Undeterred, strategists now are effectively calling for a second half that would be one of the strongest of the nine-year bull run.
Among 25 strategists surveyed by Bloomberg, 17 expect the index to surpass its January highs. At 2,944, their average year-end prediction represents roughly an 8 percent increase by December. The group's been that optimistic at midyear only two other times since 2009.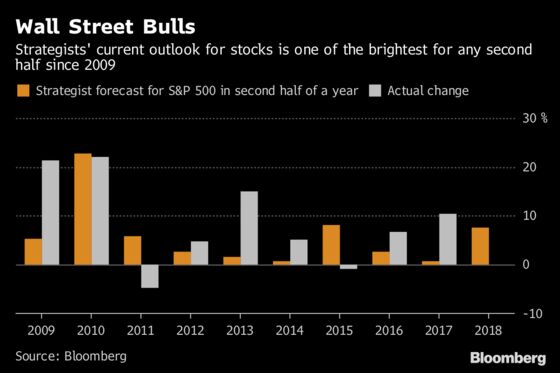 Their optimism proved spot on in 2010, as the S&P 500 rallied 22 percent from July to December. In 2015, when they predicted similar gains as now, the index ended down 1 percent.
Investors aren't as confident the rally's ready to resume. Over the past week, they pulled about $24 billion out of U.S. equity funds and sought safety in dividend stocks, companies whose stable payouts give them an extra buffer during selloffs. Utilities and phone companies led the market for a fourth week, the longest streak since the eve of the Brexit vote in June 2016.
Most strategists built their bull case on corporate earnings. Indeed, analyst estimates showed S&P 500 profits will expand at least 10 percent in each of the next two years.
The problem is, following strategists' advice hasn't yielded good results. In five of the past nine years, their average forecasts were off from where the S&P 500 actually ended by more than 9 percentage points during the second half.