Rebel Investors Oust Petropavlovsk Leadership in London Vote
(Bloomberg) -- Rebel shareholders ousted the leadership at Petropavlovsk Plc as the bitter battle for gold mines in Russia's far east took another twist.
Kazakh cryptocurrency tycoon Kenes Rakishev, who controls a 22 percent stake, and the co-founder Peter Hambro were among investors who had sought the ouster of the existing board at a shareholder meeting in London.
Investors voted to bring back former Chief Executive Officer Pavel Maslovskiy and directors Roderic Lyne and Robert Jenkins, Petropavlovsk said in a statement on Friday. Five existing directors, including Chairman Ian Ashby, weren't reappointed, the company said, adding that it will make a further announcement on the changes.
The latest battle for control of Petropavlovsk commenced in early May when two mystery shareholders, holding 9.1 percent of Petropavlovsk, said they wanted to replace the entire board. Petropavlovsk, backed by investors such as D.E. Shaw and Sothic Capital Management LLP, branded the challenge a stealth takeover and said the rebels were seeking to reinstate board members who oversaw the company's decline from a $3 billion miner a decade ago to a penny stock.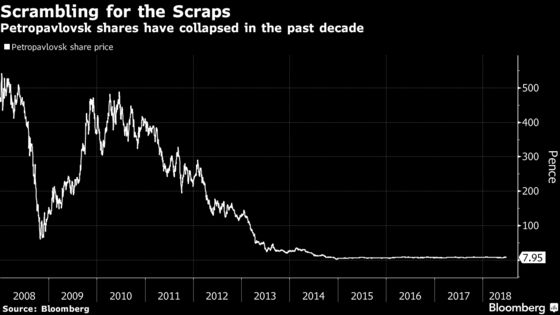 Petropavlovsk shares closed down 0.5 percent in London, wiping out an earlier gain and valuing the company at 263 million pounds ($347 million). Calls to Petropavlovsk in London weren't immediately answered.
Petropavlovsk has cut gold output to focus on more profitable ounces, and in 2017 reported the highest net income in five years. The company, started by Maslovskiy and banking heir Hambro, is also building a new plant that could allow more complicated ores to be processed.
The new project has sparked interest in recent weeks from rival Russian miner Polymetal International Plc, after Petropavlovsk hired Lazard Ltd. to advise on its strategic options. The company said it rejected a non-binding offer for the pressure oxidation facility.
This time last year, shareholders forced Hambro and other directors out, while Maslovskiy resigned soon after. That coup was led by Russian billionaire Viktor Vekselberg. He has since sold his stake to Rakishev, while M&G Investment Management Ltd., which also supported the ouster, has also divested.
The latest skirmish has turned ugly at times, with accusations, counterclaims and rebuttals. The incumbents blame their predecessors for bringing Petropavlovsk to its knees, while the old management say their replacements are squandering the healthier position they inherited.