Pulling Billions Out of Equities Is the New Thing: Taking Stock
(Bloomberg) -- S&P futures have traded higher all morning, with impressive bounces in the global markets (China rose >2%, Europe up ~1%), though we've been fading since Axios reported that Trump is telling advisers that he wants the U.S. to withdraw from the WTO ("He's [threatened to withdraw] 100 times"). The story goes on to say that his advisers do push back and a policy has never been put in place to take the idea seriously -- note that Mnuchin and Kudlow are both scheduled to appear on Fox Business shortly.
Banks are poised for a second-day relief rally, after thirteen straights days of losses for the XLF, with second round of stress tests (CCAR) now out of the way -- even Deutsche Bank, whose U.S. unit was the sole bank to fail, saw its shares climb over 4% in Frankfurt -- analysts seem to agree that the results were largely better than expected:
Goldman sees CCAR as a catalyst for a group rally on dividend growth and sees biggest relative winners as WFC, HBAN, RF, STI, FITB
Morgan Stanley calls this a tougher CCAR, but a flexible and pragmatic Fed means "you shouldn't be surprised to see banks resubmit for additional capital return"; biggest upside surprise was HBAN, WFC, ALLY and disappointments were COF, BK, STT, PNC
Janney upgraded both SC and ALLY to a buy after CCAR due to material increase in capital distributions via repurchases and dividends
Elsewhere, Nike is soaring almost 10% pre-market after lifting its outlook, which should help the athletic/footwear names like Under Armor and Foot Locker. KB Homes turned in another solid earnings result for the homebuilders after Lennar sparked a brief bounce earlier this week -- BofAML is out double upgrading KBH to a buy post-results "driven by what we view as currently mispriced stocks across much of the homebuilder group on overblown interest rate/cycle concerns." And railcar names, like American Railcar and Trinity Industries, could be under pressure after Greenbrier's miss.
Pulling Money Outta Stocks
Sentiment on the stock market has clearly soured lately, as can be seen by the latest EPFR data showing global equities had $29 billion of outflows last week, or the most in twenty weeks. Digging deeper, you'll see that U.S. stocks saw $23.6 billion of outflows after seven straight weeks of inflows.
You can chalk this up to a fuzzier picture of how this trade war will ultimately get resolved (and when exactly this whole "art of the deal" will present itself), China viciously entering a bear market, a mini-spike in volatility, an unsettling pullback in some of the groups that have led the bull market on the way up -- from the possibly-frothy-looking large-cap tech stocks (FAANGs, semis, et al) to the downward-streaking banks -- and a rotation into more defensive sectors like the utilities and consumer staples.
But the fact that the SPX is only down 1.4% on the week (compared to Europe's Stoxx 600 -2.1% and China -3.6%) and that we've bounced several times along the 2,700 support line has to seem like a win for the bulls at this point. Bloomberg Intelligence Chief Equity Strategist Gina Martin Adams agrees: In her bit from last night, she said that the long-term price action indicates that the S&P 500's upward trend is still intact, though warns that a further decline toward the 200-day moving average (currently ~2,668) "may warrant increased caution as those moves would coincide with a dip below its longer-term price trend."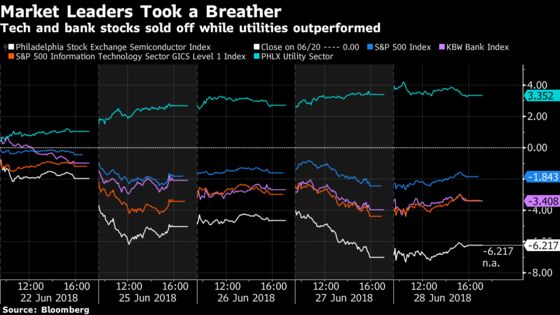 Not a whole lot given the holiday week, with an early close on Tuesday and a day off on Wednesday, which means that the seesaws of the tape will likely remain tied to trade noise (July 6 is the start date for tariffs on $34 billion of Chinese imports) in addition to the wreckage in China and the rest of emerging markets.
The week is short, but the eco catalysts are aplenty from ISM Manufacturing to Markit PMIs and the FOMC Minutes from the more-hawkish-than-expected June 13 meeting (though the 10-year yield peaked that day at 3.01% and hasn't looked back since). The biggest catalyst will be the jobs data on Friday, or perhaps even the Trump tweet that precedes it if we get a replay of what happened last time.
Corporate news should be spread thin, highlighted by monthly auto sales, Tesla's second-quarter deliveries (shares rose 1.6% Thursday on several bullish analyst calls), and earnings from Acuity Brands (fell almost 4% yesterday after lighting peer Osram plunged >20% on a forecast cut). We may also get some preannouncements now that the quarter is coming to a close, and these will likely be juicier than normal (like Daimler from last week) given the trade war blame game that companies may use legitimately or to kitchen sink their upcoming results.
Morgan Stanley sees HOG moving production capacity out of the U.S. as an unlikely outcome, as the threat is "mainly the result of its declining U.S. demand" and not EU taxes..
The bank also has a note out on the auto-related semiconductor stocks' weakness after tier 2 supplier Osram cut guidance (TEL, ST, NXPI, CY, ON have highest exposure); "we haven't detected any downtick in orders in the supply chain, although headline risks on trade and tariffs have increased," and sees TEL as having best risk/reward in the space..
Nomura Instinet says to buy TSLA on any weakness related to the 2Q delivery report next week (see our preview here).. Citi has a positive note on the valuation of BA's defense business (~30% of EBIT), which follows up on a buy-the-dip note from Bernstein on Thursday..
Wells Fargo slashes Ebitda estimates for North America services universe by up to 40%, citing "downside risk in Lower 48 D&C spending and completions in 2H18/1H19 and recent data points suggesting that the pressure pumping market is already weakening." The firm downgrades CJ, FTSI, FRAC, and SLCA to a market perform and upgrades NBR to outperform.
Tick-by-Tick Guide to Today's Actionable Events
Today -- FDA decisions expected for ALKS and DERM; FDA review for MRK Keytruda sBLA
7:30am -- STZ earnings
7:30am -- DAL annual meeting
8:30am -- Core PCE, Personal Income
9:45am -- Chicago PMI
10:00am -- University of Michigan Sentiment
11:00am -- DPS M&A vote
12:00pm -- USDA quarterly grain stocks report
12:15pm -- Trump speaks at event celebrating Tax Cuts and Jobs Act
3:00pm -- NSM M&A vote
9:00pm -- China Manufacturing PMI