Indonesia Raises Its Reverse Repo Rate to 5.25% From 4.75%
(Bloomberg) -- Indonesia's central bank stepped up its policy action with a bigger-than-forecast interest rate hike -- the third increase in six weeks -- to halt a deepening slide in the currency.
The seven-day reverse repurchase rate was raised by 50 basis points to 5.25 percent on Friday, surprising all of the 31 economists surveyed by Bloomberg, most of whom had predicted a 25 basis-points hike.
"The decision to increase the interest rate is another of Bank Indonesia's pre-emptive, front-loading and ahead-of-the-curve measures to maintain the competitiveness of domestic financial markets following changes in monetary policy in a number of countries and high uncertainties in financial markets," Governor Perry Warjiyo said.
While inflation remains subdued and comfortably within the central bank's 2.5 percent to 4.5 percent target, policy makers are squarely focused on stabilizing the currency amid an emerging-market sell-off sparked by rising U.S. interest rates. The rupiah has continued to lose ground against the dollar, dropping to as low as 14,415 on Friday to take its decline this year to more than 5 percent.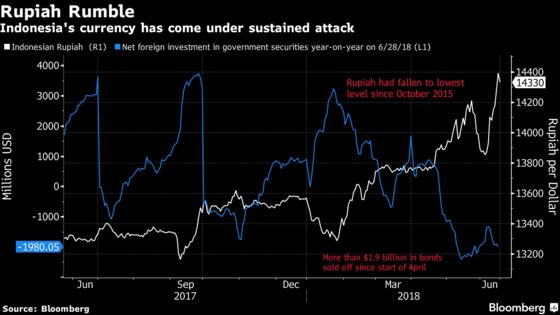 Indonesia has been one of the hardest hit in Asia from the ructions caused in emerging markets by a surging greenback and U.S. interest rates. That has seen other central banks take action to counter an exodus of capital. Central bankers from Turkey to India have raised rates in a bid to avoid a major crisis.
The rupiah gained as much as 0.6 percent against the dollar after the rate decision, while the benchmark Jakarta Composite Index rallied 2.3 percent. Yields on benchmark 10-year sovereign rupiah bonds fell 8 basis points to 7.82 percent, trimming this year's rally to about 150 basis points.
"BI's surprise 50 basis-point rate hike today underscores Governor Warjiyo's seriousness to get ahead of the curve and stem the depreciation pressure on the rupiah," said Khoon Goh, head of Asia research at Australia & New Zealand Banking Group Ltd. in Singapore. "There should be no doubt in the market's mind about the determination of the new governor to hike further if needed to defend the rupiah."
Key Points from Statement:
Moving forward, Bank Indonesia will continue to monitor the domestic and global economic developments and outlook, to strengthen future policy mix responses
The loan-to-value ratio for property has been relaxed in order to maintain domestic economic recovery momentum and financial system stability
Global uncertainty also stems from the European Central Bank's reduction in asset purchases, a lowering in China of reserve requirements, rising oil prices and deteriorating U.S.-China trade relations 
"The uncertainty could feed through to broad USD appreciation and trigger a capital reversal from developing economies, thereby prompting broad currency depreciation, including the rupiah"
Warjiyo said the policy action is supported by intervention in the foreign exchange and bond markets to ensure sufficient liquidity. The central bank has drained $9 billion from its stash of foreign reserves since the end of January.
Still, the aggressive move also raises risks for Indonesia's economic growth, which has been stuck around 5 percent, well below the 7 percent targeted by President Joko Widodo when he took office. The central bank on Friday announced measures to ease loan-to-value ratios to help spur lending and support a recovery in the economy.
"The rupiah is really a concern right now and they have realized the exchange rate volatility could be a lot more disruptive to the Indonesian economy than rising interest rates in the short term," said David Sumual, chief economist at PT Bank Central Asia in Jakarta.