Euro, Italian Bonds Jump After European Migration Deal Reached
(Bloomberg) -- The euro and Italian bonds rallied after European Union leaders agreed to a package of measures to help the country deal with migration, an issue that had threatened to create political rifts in the region.
The common currency surged by the most in a month and Italian securities jumped across the board, with yields on the 10-year benchmark dropping to the lowest level this week. Italian stocks rallied as much as 1.6 percent. Rookie Italian Prime Minister Giuseppe Conte said the country was "no longer alone" following the deal to stem the flow of migrants into the bloc and spread the burden of handling those who do arrive.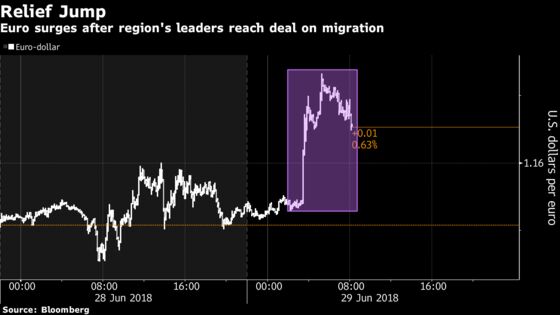 "This is positive for the euro because the main factor supporting the currency last year was the prospect of the EU, and particularly euro-area members, moving closer together," said Thu Lan Nguyen, a foreign-exchange strategist at Commerzbank AG. "This hope in the market is kept alive and should thus keep the euro supported."
The euro rose as much as 0.8 percent to $1.1666 and was at $1.1638 as of 8:09 a.m. London time. However, the gains weren't enough to erase June's overall decline and the currency is set to weaken for a third month. Italian 10-year bond yields dropped six basis points to 2.72 percent, with the spread over those on their German counterparts falling eight basis points to 238 basis points.
The fortunes of the euro and the region's government bonds have fluctuated as political tensions across the continent have flared. Italy's new euroskeptic government, made up of the Five Star Movement and the League, has spooked investors, while Angela Merkel's tenure as German chancellor has been under threat, with her Bavarian sister party, the CSU, threatening to breakaway over the issue of migration.
The agreement has brightened the outlook for Italian bonds, known as BTPs, though concerns are still likely to remain over the government's fiscal plans, according to Richard Kelly, head of global strategy at Toronto-Dominion Bank. Ten-year yields could drop back toward 250 basis points, he added.
"There are still plenty of uncertainties around the new government, but seeing agreement on the first major issue tackled with other leaders should see some hope we can think about further deescalation," he said in emailed comments. "This could at least help yields drift back down towards the mid-June lows for the summer."