Credit Markets Bet That a Slew of Large Caps Are Effectively Junk
(Bloomberg) -- Credit markets are morphing into one.
Investor appetite for junk debt is shrinking its premium over investment grade to the lowest on record, adjusted for leverage, according to analysis from Strategas Research Partners.
"This shows that the market is no longer rewarding investment-grade companies for being investment grade in name," said Thomas Tzitzouris, chief fixed-income analyst at the U.S. broker-dealer. "Rather, it's treating each unit of leverage nearly the same."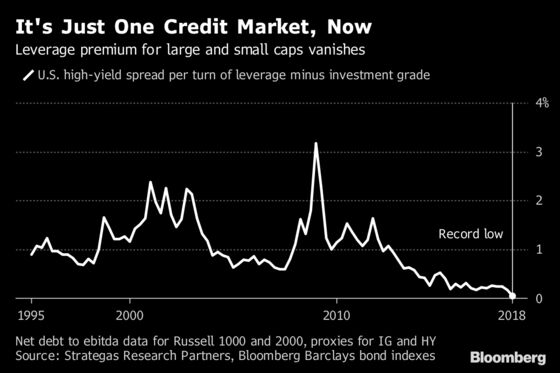 U.S. lower-rated issuers are enjoying their narrowest-ever premium for corporate leverage, suggesting the asset class has never been so richly valued versus mainstream issuers.
It's a reversal of fortunes for investment-grade borrowers that have become the focus of concerns about rising corporate leverage as the business cycles ages. By contrast, weaker balance sheets of junk-rated firms are getting a pass thanks to higher oil prices, technical factors and the hunt for short-duration assets.
In the past, investment-grade companies with established brands and liquidity were charged notably less per unit of leverage than speculative companies, Tzitzouris said. Investors also saw those companies as likely to hang onto their ratings.
High-yield issuers have tended on average to offer about 100 basis points more than better-rated peers per turn of leverage. That is, increases in their net debt to earnings before interest, tax, depreciation and amortization.
Now, the premium is more or less comparable for large capitalization companies and their smaller peers -- upending decades of market norms, according to Strategas. The firm used Russell 1000 and the Russell 2000 indexes as proxies for the high-grade and speculative-grade debt, respectively.
That means that even as risk aversion spikes across the world, investors continue to welcome U.S. junk bonds getting an outsized boost from the outperforming American economy.
For high-grade companies, it's the latest sign investors are paring duration risk and bracing for late-cycle, debt-fueled M&A that will weigh on balance sheets and increase the number of fallen angels, companies that are stripped of high-grade credentials.
Large caps are seen as "M&A candidates at risk of losing their investment-grade status," Tzitzouris said.