Copper Bounces as Bearish Traders Book Profits After Torrid Run
(Bloomberg) -- Copper climbed from a three-month low as some traders closed out bearish bets to profit from the metal's torrid run, while fundamentals pointed to a tightening spot market.
The metal, often seen as a bellwether for the global economy, has taken a hit recently on concerns that escalating trade tensions will hurt demand. Prices rose less than 0.1 percent to settle at $6,626 a metric ton at 5:50 p.m. in London Friday, after slumping as much as 10 percent from a four-year high set just three weeks ago.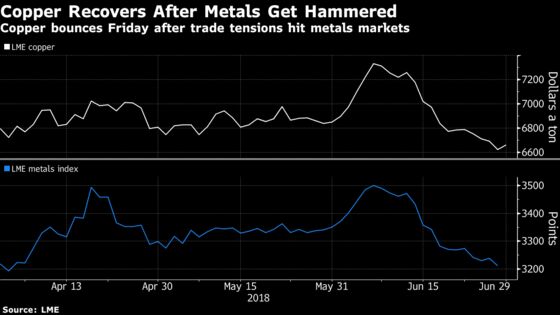 The bounce came as some some bearish traders booked profits at the end of the quarter, capitalizing on price declines as a trade spat between the U.S. and China ratcheted up ahead of the July 6 start date for tariffs on $34 billion worth of Chinese goods. Those trade tensions have offset signs of stronger demand in the physical market, where inventories are falling and spot prices are at the biggest premium to futures in two years.
"Positioning in copper was turning to the short side by mid-week, and given the volatility of the news flow around trade issues, it's inevitable that you'll get phases of short-covering," Nicholas Snowdon, an analyst at Deutsche Bank AG, said by phone from London. "In terms of the fundamental signals that should support prices, we're seeing those in the form of stock drawdowns and tightening spreads."
One factor supporting fundamentals is a slew of smelter closures that have left physical traders looking for alternative sources of metal, Snowdon said. That's contributed to a 24 percent drop in London Metal Exchange inventories in the past three months.
Zinc entered a bear market this week on concerns about deteriorating demand and rising supply. On Thursday, two regional Federal Reserve presidents warned that worries over trade disputes are increasingly weighing on businesses and adding risks to the U.S. economic outlook.
"Escalating global trade tensions bring a risk of demand destruction across commodity markets as costs rise for end-users and access to material is restricted," Morgan Stanley said in a report received Friday. Copper looks best positioned to weather the storm, given a looming shortage in mine supply, the bank's analysts said.
In other metals on Friday, lead, nickel and tin gained, while zinc and aluminum declined.