QT Has Been Bad News for S&P 500, So Look for a Market Drop Monday
(Bloomberg) -- Quantitative tightening days haven't been kind to the S&P 500 Index lately. The U.S. equity benchmark has stumbled on the last five occasions the Federal Reserve System Open Market Account has had Treasuries mature.
The connection was made on Twitter by @Martingale_Macro, "a sr PM at fund everyone knows," and elaborated on by East West Investment Management Co. market strategist Kevin Muir on his blog, The Macro Tourist.
Rather than selling bonds outright, the Fed is allowing them to "roll off," which means effectively pocketing, rather than reinvesting, the proceeds as the bonds mature. That's reducing liquidity and, if commentators are right, proving a drain on equities.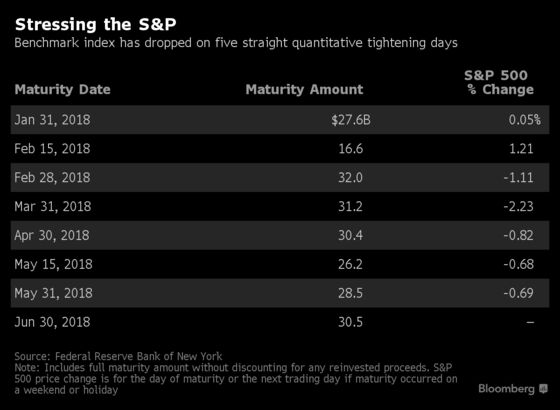 Each maturity date since Feb. 28 has coincided with a drop of 0.68 percent or more in the S&P 500 Index. The March 31 roll-off was followed by a 2.2 percent plunge the next trading day, the fourth-worst session for the index this year.
Quantitative tightening, or the unwinding of central banks' extraordinary stimulus, has been the primary driver of asset-class performance this year, Bank of America Merrill Lynch analysts say. The march higher in U.S. interest rates and tighter financial conditions mean that securities which did well during quantitative easing are now underperforming, while "QE losers" have become stars.
This year marks a shift in a tide of global liquidity that helped push up asset prices, according to a Bank of America Merrill Lynch analysis. Securities purchases from the Fed, European Central Bank and Bank of Japan are just $125 billion year-to-date, well below the $1.5 trillion rate of 2017, they estimate. That suggests markets are missing an injection of some $1.38 trillion thanks to policy makers changing tack.