Pimco Adviser Re-Ups Its 'Trade of a Decade' in Emerging Markets
(Bloomberg) -- As emerging-market stocks spiral toward a bear market, one of the asset class's longtime bulls says now is the time to buy.
Research Affiliates, a sub-adviser to money managers such as Pacific Investment Management Co., is reiterating its recommendation to buy developing-nation equities, countering warnings from Harvard economist Carmen Reinhart, Allianz SE chief economic adviser Mohamed El-Erian and others about fragility in the developing world. The firm first said in February 2016 that emerging markets would be the "trade of a decade," and the MSCI Emerging Markets Index has returned 52 percent since then.
External debt, foreign-exchange reserves and current account balances show developing nations at low risk of a widespread funding crisis, analysts Chris Brightman, Michele Mazzoleni and Jonathan Treussard wrote in a report.
"When fear reigns supreme, it's time to buy, not sell," they said.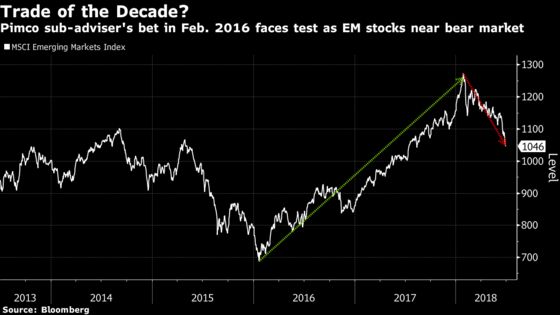 The benchmark index is now down 18 percent from a bull-market peak reached in January, and emerging-market equities look "cheap" by almost every measure -- from CAPE to price-to-book ratio, price-to-sales ratio and market cap to gross domestic product, according to Research Affiliates. The Newport Beach, California-based firm predicts annual average real returns of 6.3 percent over the next decade, the best of any asset class.
Research Affiliates cites five positive signs for emerging-market stocks:
1) The global economy has become more stable as inflation has trended into the low single digits from double digits in decades past.
2) Emerging-market countries are wealthier and financially healthier. The average reserve level is near 25 percent of GDP, more than triple the level from 1960.
3) The most vulnerable countries, such as Turkey and Argentina, represent just a small fraction of the value of developing-nation stock markets.
4) Relative valuations discount a great deal of bad news.
5) Investors often respond with fear to market corrections in emerging markets when the same move in the U.S. would lead to buying the dip.
Here are a few of their other key takeaways:
China, South Korea, Taiwan, India and Russia, which compose about three-fifths of the MSCI EM Index, have little to no risk of a funding crisis given their low external-debt-to-GDP ratios and ample reserves. Most also run current account surpluses.
Less than 20 percent of the MSCI EM Index looks to be at elevated risk (notably Turkey and Indonesia) of a funding crisis, while another 20 percent (including Brazil, Mexico and South Africa) faces moderate risk.
By these same three measures, the U.S. fares poorly with external debt to GDP higher than the worst EM countries and a persistent current account deficit. Still, it's in no immediate danger of a funding crisis.