Asia's Worst-Performing Currency May Have Further to Fall: Mizuho
(Bloomberg) -- The Thai baht, set to become the worst-performing currency in emerging Asia this quarter, doesn't look like it's going to bottom anytime soon, according to Mizuho Bank Ltd.
Foreign funds have pulled a net $3.8 billion from the nation's equity market since the end of March, the most since at least 1999 on a quarterly basis, amid concerns that an escalation in trade frictions between the U.S. and China will weigh on Thailand's current-account surplus -- a source of attraction for the country's currency bulls.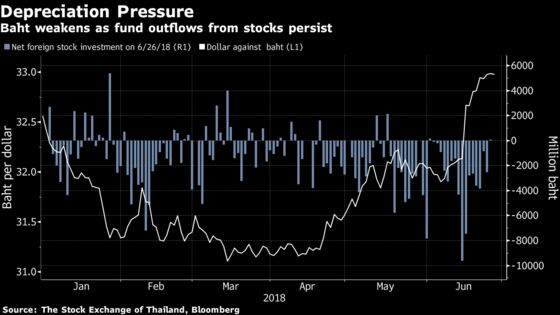 The baht had been the second-best performer in emerging Asia in the first quarter, underscoring the spread of the rout in developing economies to countries with relatively strong fundamentals. Central banks in emerging markets -- from Argentina to Turkey -- have gone on the defensive as a stronger dollar and rising Treasury yields fueled concern that a failure to tighten monetary policy risks a currency selloff and an acceleration in inflation.
"The market's focus has shifted to trade frictions and the currencies of economies with high dependence to trade are becoming more vulnerable to selloffs," said Masakatsu Fukaya, an emerging-market currency trader at Mizuho Bank. "My view is that the dollar will remain strong for a while. People are becoming concerned that a trade war will lead to overall shrinkage in global trade, so that could potentially threaten Thailand's current-account surplus."
The baht has weakened almost 6 percent against the dollar this quarter to trade at 33.10 as of 2:15 p.m. in Bangkok Thursday. Overseas investors withdrew net $251 million from the bond market since the end of March, the first net quarterly outflows since the last three months of 2016, according to data from the Thai Bond Market Association.
"Factors that supported the first-quarter gains are now turning around to bite the currencies of export-oriented economies," Mizuho's Fukaya said. "We may even see the baht test the 33.50 level."