In Flip-Flop, Money Managers Now Say S&P 500 Has Seen 2018 Lows
(Bloomberg) -- Money managers are having a change of heart.
That's according to a Strategas Research Partners survey of roughly 500 institutional investors, 70 percent of whom now expect the S&P 500 Index to stay above its low of 2,581 reached on Feb. 8. That's a turnaround from four months ago, when the majority said the worst had yet to come.
The S&P 500 came within 1 point of the February low in April and has since gained about 5 percent. Yet, sentiment is far from exuberant. Money managers in the latest Strategas survey predicted the index would end the year at 2,842, a level that's still short of its January peak of 2,873.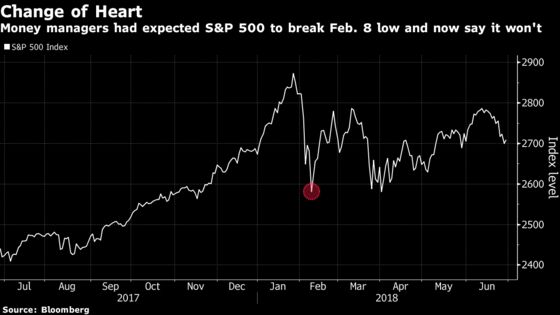 "Sentiment is less bullish, but we would stop short of calling investors bearish," strategists led by Chris Verrone wrote in a note to clients.
Among other findings from the poll, Europe and health-care stocks are the least favored. Slightly more than half of the respondents expect two more Fed rate hikes this year and the consensus on 10-year Treasuries is that yields would hover near 3 percent in December.
Almost 60 percent of Strategas clients believe the Republicans will maintain control of the House in November, an upward revision from prior surveys earlier this year.