History Shows Emerging-Stock Slump Is Nothing to Fret About
(Bloomberg) -- In the history of emerging-market stocks, there have been few years that began with such cheerful prospects as 2018 ... and even fewer first halves that ended with such disappointment.
Investors are $2.2 trillion poorer than they were six months ago, the benchmark index is close to a bear market, exchange-traded funds are seeing the worst outflows in 4 1/2 years and short traders are moving in for the kill. It does look as though the rally that added $8 trillion to equity values since January 2016 is well and truly over.
But looks can be deceiving.
The 16 percent drop from a bull-market peak is hardly unusual for the MSCI Emerging Markets Index, given the volatile nature of the asset class. Losses of that degree abound in the gauge's moves over the past 15 years, and most of them were followed by rebounds. Only during extreme events like the financial crisis did emerging equities extend declines to beyond 20 percent.
"What we have seen in emerging markets this year is bang in line with what we saw in the corrections of the past bull markets," said Daniel Salter, the head of equity strategy and research for Eurasia at Renaissance Capital Ltd. in London. "It's nothing unusual. If you want to be bullish, you might say that's a typical correction in emerging markets and you can buy it. If you are bearish, you might say they are not pricing in any of the major risks."
But with no sign of the slump ending at the end of the first half, what can investors expect for the July-December period? Are emerging markets a buy, hold or sell?
Assuming that timing the market is nigh impossible, and the only thing investors can do is to focus on fundamental value and swallow short-term losses, the following six factors might suggest answers:
Are emerging-market stocks in a free fall?
Stocks have fallen by the same degree that they dropped during the euro-area debt crisis, the Federal Reserve "taper tantrum" and the oil-price crash in 2014. Each of those past moves was made up for in the subsequent months. The weight of history is on the side of equities eyeing a pullback now, provided there's no fresh headline to spark a new wave of selling.
Bear-market thresholds -- 20 percent declines from bull-market highs -- are strong support levels. Watch out for the 1,018 level on the MSCI index as the make-or-break point. As if on cue, the MSCI gauge rose 1.9 percent on Friday, its first gain this week.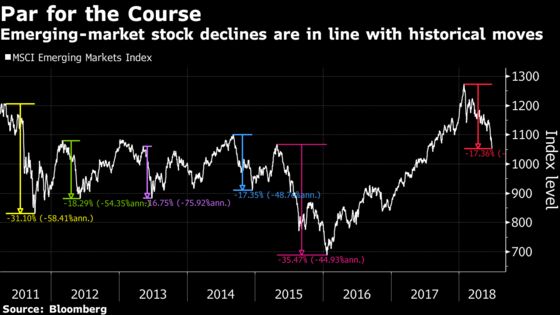 How much can a trade war hurt?
A lot is made of emerging markets' vulnerability to external shocks, and that holds true for interest rates and carry, but when it comes to trade, they are not as fragile as one might believe.
The U.S. needs emerging markets more than emerging markets need the U.S. Case in point: only 17 percent of developing-nation exports go to America, but 46 percent of U.S. exports flow the other way. Even China, whose dependence on the U.S. is greater than the emerging-market average, derives only 21 percent of its overseas sales from there.
This is not to say that the trade war doesn't matter. It's a clear and present danger, but it's a short-term risk and doesn't undermine the fundamental case for emerging-market investment.
Didn't equities get expensive after rallying for two years?
For those with a long-term view, neither the two-year rally nor the five-month slide has dramatically changed the valuation argument for emerging-market stocks. For the past four years, they have traded within a range of low valuations relative to the U.S. market.
The chart below shows their relative valuation based on the long-term price-earnings ratio developed by Robert Shiller of Yale University. It calculates price as a multiple of earnings in the past 10 years, adjusted for inflation. By this measure, developing-nation stocks are near the cheapest since 2003 relative to U.S. equities.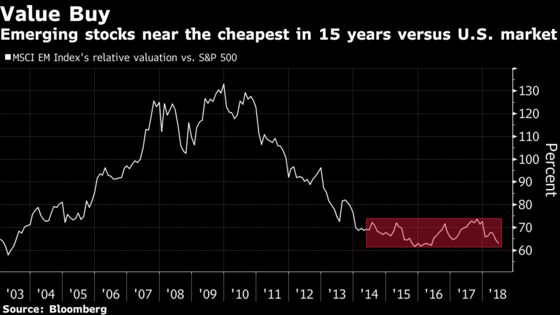 When will the selling momentum ease?
Market valuations can remain depressed for a long time and it's hard to ignore the reality of a sell-off that refuses to halt. To gauge how far the declines could go, we may turn to the relative strength index on the weekly chart for the MSCI gauge. It's quite close to what traders call the "oversold" level, when a rebound becomes more likely.
Neither the euro-area debt crisis nor the crude-oil losses in 2014 pushed emerging-market equities below the threshold. However, events including the downgrade of U.S. credit at S&P Global Ratings in 2011 and the China shock of 2015 did push it lower.
Whether stocks will overshoot this time around depends on how much uncertainty investors read into the current environment of rising U.S. interest rates in comparison with those past events.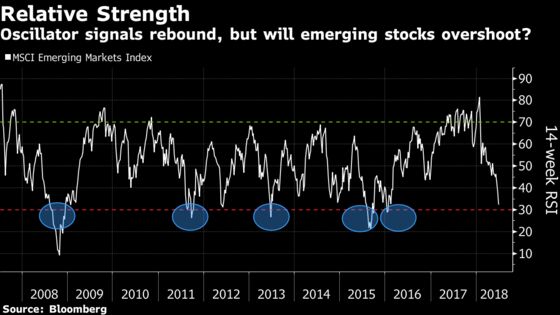 Will higher U.S. Treasury yields end the risk rally?
The gap between the earnings yield of emerging-market stocks and 10-year U.S. Treasuries has been widening since January. For every $1,000 invested, the stocks offer $48 more per year than the Treasuries. A surge of 139 basis points in this spread has given emerging-market equities a yield cushion to help withstand further hardening of U.S. rates.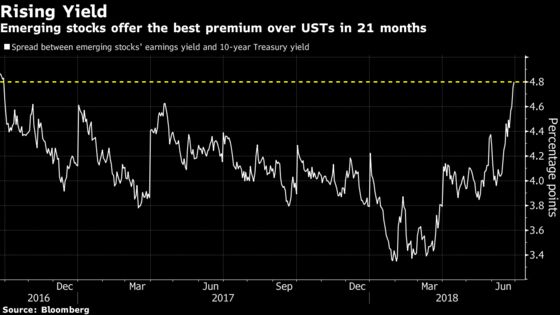 Does the dollar matter for stocks?
Unlike currencies, developing-nation stocks have an ambiguous relationship with the dollar. A stronger U.S. currency boosts the shares of exporters, while spurring local inflation and undermining aggregate demand. But when the graph of relative value between emerging-market and developed market equities is compared with the dollar's moves, a more definite picture emerges.
A stronger dollar reduces emerging markets' relative value, and a weaker one raises it. That means if investors take a bearish view on the greenback, they might turn bullish on these stocks.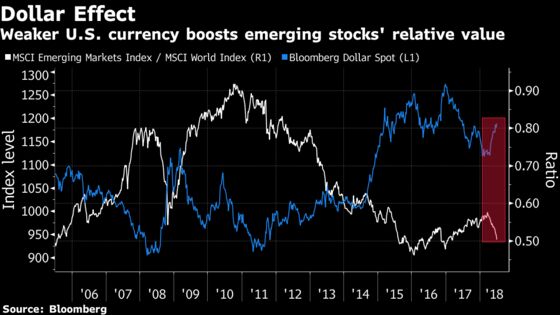 All this doesn't rule out a deeper slump in equities, just that the losses are more a function of the typical volatility of the asset class rather than fundamental flaws in their investment appeal.