An 11% Loss Greets Funds Buying Chinese Stocks for First Time
(Bloomberg) -- Global passive funds are buying China's domestically traded shares for the first time and it's not going well.
Stocks in Shanghai have tumbled 11 percent in dollar terms since MSCI Inc. added so-called A shares at the start of the month. Only equities in Argentina, Ghana and Namibia have performed worse. Worries about a slowing economy, tightening liquidity and possible trade war are plaguing the world's second-largest stock market, while a suddenly tumbling currency is only adding to foreign investor losses.
While MSCI's decision to initially allocate a minuscule weighting to so-called A shares will limit the fallout, the $2 trillion rout is evoking uncomfortable echoes of Chinese market panic just three years ago. A repeat of such turmoil, even on a lesser scale, is likely to undermine efforts in Beijing to encourage foreign inflows and stabilize a market still dominated by speculators.
"The timing is very awkward," said Anthony Chan, chief investment strategist for Asia at Union Bancaire Privée. "There's still a lot of guessing as people try to price in changes to growth expectations."
While Chinese shares rose from a two-year low on Friday, following a pattern of gains on the final day of a quarter, there's little sign that the outlook will improve any time soon. The Shanghai Composite Index entered a bear market this week and a momentum indicator is near the lowest since 2013. Average daily turnover on mainland exchanges this month has fallen to the lowest since August 2014, suggesting buyers are thin on the ground.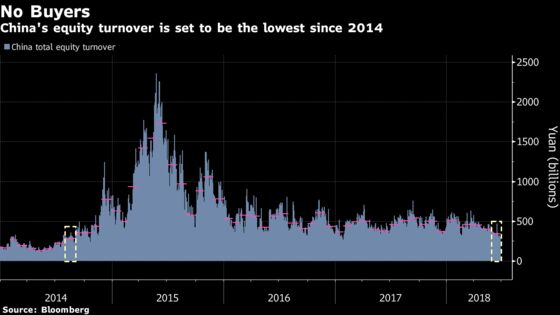 That's bad news for the exchange-traded funds, international retirement plans and endowments that track an MSCI index. The declines are also stinging foreign funds who took advantage of greater access to Chinese equities via links in Hong Kong.
Overseas investors bought a net $13.5 billion of mainland shares since the start of May through mid-June. The purchases are almost equal to the total bought for during the first four months of the year.
Foreigners have had better luck with the nation's government bonds. The benchmark 10-year yield fell 16 basis points in a fifth monthly decline, the longest streak since 2015, as investors sought refuge from the stock market and bets increased that the central government would loosen liquidity.
Easing would however add to selling pressure on the yuan, down 3.2 percent in June, making Chinese assets less attractive. The currency rose 0.1 percent Friday, while the exchange rate gained for the first time in 12 days in Hong Kong.