Greenspan's Radar Is Locked on 5-to-30 Year Yield Curve Slice
(Bloomberg) -- When it comes to curve watching, former Federal Reserve chairman Alan Greenspan has a favorite: the 5-to-30-year Treasury yield gap.
"I've been watching this curve for decades," said Greenspan, the second-longest serving Fed chairman, in a telephone interview.
Yet unlike many others, he doesn't find the overall slope of the Treasury curve -- which has been in a relentless flattening trend -- to be a very prophetic signal for looming recession. The 5-to-30 year gap on Friday pushed back down toward the decade lows it touched earlier this month and the compression of various differentials across the curve has prompted many observers to speculate about what it means for the economy as a whole. Investors have focused on the gap between 2- and 10-year yields, which earlier this week narrowed to the least since August 2007 as growing angst over trade wars spurred demand for long-term Treasuries.
But for the 92-year-old former central banker, the link between the shape of the curve and recession isn't solid, and the compression of the 5-to-30 year spread, in particular, can actually be a good sign. He sees the narrowing of that gap as a positive signal on the outlook for long-term capital expenditure by companies, business confidence and, ultimately, gross domestic product.
"The yield spread between the 30-year Treasury bond and the five-year note is a statistically significant gauge of the willingness of corporations to invest," Greenspan said.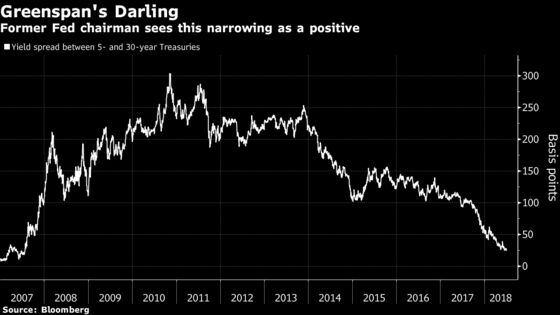 The 5-to-30-year yield spread "together with the rate of deficit spending in the system, has a surprisingly high correlation with the cap-ex ratio," Greenspan said, referring to the proportion of liquid cash flow that corporate management is willing to plow into long-term assets. "When this curve is flattening, capital investment goes up, which is a positive for economic growth."
Yet while signs have been good for the U.S. economy, and American companies have received a boost from President Donald Trump's tax cuts, equity prices have been on a wild ride this year as investors ponder what impact growing frictions between the U.S. and its major trading partners might have. The S&P 500 Index peaked in January and has since fallen by more than 5 percent.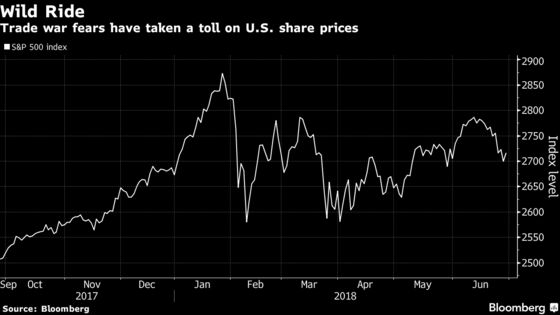 Many current Fed officials have warned about the risks of the yield curve inverting, given there is a track record of such moves coming before recessions and the potential for such a shift to dent sentiment. Atlanta Fed President Raphael Bostic said on June 18 that market perception that the curve is inverting "could trigger its own response that would increase volatility. " St. Louis Fed President James Bullard said Thursday that inversion is a "key near-term risk."
The 5-year yield was around 2.73 percent on Friday, less than 25 basis points below the 30-year rate. And while Greenspan may be among the first to know if it does invert, given he monitors it so closely, he says that it's unlikely to do so.
"I'd be very surprised to see the 5-to-30 year yield spread invert," Greenspan said.