Trader Makes Big Move in Financials ETF 
(Bloomberg) -- The outflows from the world's largest exchange-traded-fund tracking U.S. banks might not be over, as a massive block trade for the fund hit before the stock market opened Wednesday.
One investor moved almost 4 million shares worth $106 million of the Financial Select Sector SPDR Fund, ticker XLF, at 8:48 a.m., the largest trade in more than a month.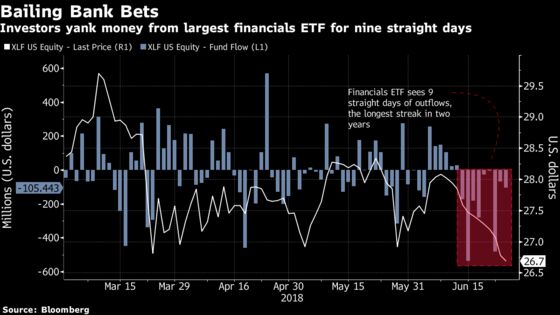 The S&P 500 Financials Index fell for the 12th straight day Tuesday, the longest losing streak on record. Banks continue to be pressured by global economic instability and a flattening yield curve, which has pushed investors to yank cash from XLF for nine straight days, matching the longest streak since 2014.
The losses also come ahead of the final phase of the Federal Reserve's annual bank credit stress tests and waning consumer confidence. Benchmark 10-year Treasury yields continued to fall Wednesday, declining three basis points to 2.85 percent as of 11:23 a.m. in New York.
"What we see here is the market taking a glass-half-empty type of view of potential risks," Sandler O'Neill & Partners analyst Jeff Harte said on Bloomberg TV. "The really big investing-centric banks have taken it on the chin even more because I think people are rightly concerned about trade wars. They're truly international companies so the extent that trade wars were to break out, it would be worse news for them."
XLF is up 0.3 percent Wednesday. The $30 billion fund has over 53 percent of its exposure to banks and its largest holdings are Berkshire Hathaway Inc., JPMorgan Chase & Co. and Bank of America Corp.