Stock Options Bets Amassing Near Some Key Trump Trade Deadlines
(Bloomberg) -- Options bets on stocks and exchange-traded funds are piling up around key deadlines in President Donald Trump's trade crusade and at least one strategist doesn't think it's a coincidence.
Six of the 11 most-active contracts on the U.S. exchanges Tuesday had a June 29 expiration. That's a day before the Treasury Department is scheduled to propose restrictions on Chinese investments in the U.S. It's also the last session before Congress can block renewal of a measure known as the trade-promotion authority, which provides for a yes-or-no vote by lawmakers on trade deals.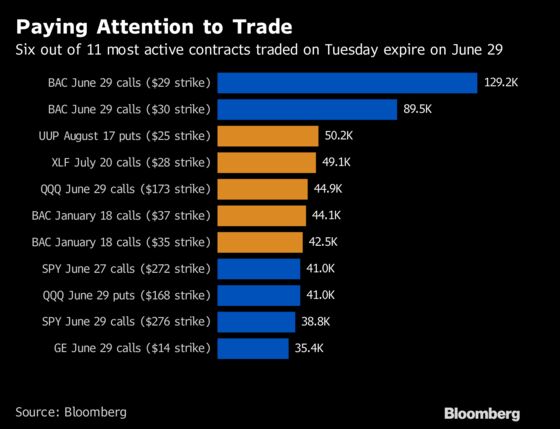 "It is expected that we will get a decent move into this date and this is keeping VIX supported below around 15," said Ilya Feygin, senior strategist at WallachBeth Capital LLC.
The Cboe Volatility gauge slid 8.1 percent on Tuesday to 15.92 after rising 26 percent on Monday as U.S. stocks posted the biggest decline since April. Among contracts that changed hands the most Tuesday were Bank of America Corp. June 29 call options with a strike price of $29 and $30 and June 29 $276 calls on the SPDR S&P 500 ETF Trust.