Ready to Catch Falling Knives in Stocks? These Investors Are
(Bloomberg) -- After a near 5 percent decline in two weeks, investors should be brave and buy the dip in European equities as fundamentals are set to eclipse political noise and trade saber-rattling in the second half of the year, according to Barclays Investment Solutions and Allianz Global Investors.
Corporate profits are set to grow and valuation levels have dropped again to attractive levels, fund managers at the two firms said. The Stoxx Europe 600 now trades at a price-to-book ratio that is almost half that of the S&P 500 Index.
"We expect the rising profitability story to remain in place, generating faster earnings growth. This is definitely a buying opportunity for those not fully invested in continental European stocks," said William Hobbs, the head of investment strategy at Barclays Investment Solutions in London, which has an overweight recommendation on the region's equities.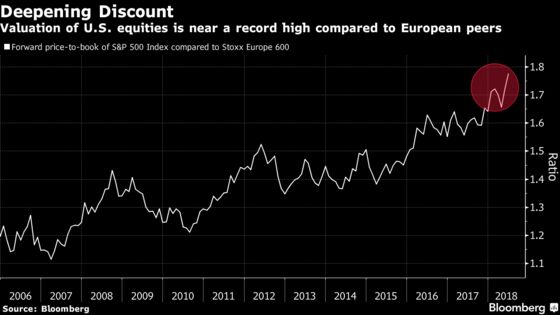 European stocks have been the underdog among developed markets this year, widening their year-to-date underperformance versus the U.S. over the past month. The concerns that have fueled the sell-off have spanned from Italian elections, the European Central Bank's lack of clarity on the timing of interest rate increases as well as U.S. President Donald Trump's resumption of the trade spat.
So far however, Europe's earnings recovery story is intact, with analysts upgrading their forecast for the region's profits. Stoxx 600 earnings are expected to rise 6.1 percent this year, up from 5.8 percent seen a month ago and 4.3 percent seen in late March, a trend that shows optimism from equity analysts. On the macro front, the much-awaited rebound in euro-area growth momentum may have finally begun: the composite PMI rose in June, suggesting the economy is gathering pace again.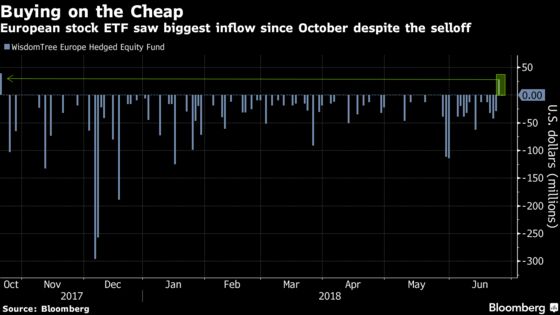 In a sign that some investors were getting into European equities during the retreat, WisdomTree Europe Hedged Equity Fund, the third-biggest European stocks-focused ETF, had the largest single-day inflow since October on Monday, with $28 million of fresh money coming in, despite the market's sell-off that day.
"We expect European earnings to accelerate in the second half, helped by the still-encouraging macro data, and fading FX pressures," said Marcus Morris-Eyton, a London-based fund manager at Allianz Global Investors. "The region clearly looks undervalued relative to other developed equity markets, where the corporate earnings recovery has been more pronounced."
European stocks surged on Wednesday afternoon in a broad rally led by miners and oil shares, as senior Trump administration officials said the U.S. will take a less confrontational approach than expected toward China.
"Trade policy is the wild card for the global and European economies," said Olivia Engel, chief investment officer of active quantitative equities at State Street Global Advisors. "The European earnings cycle is younger than in the U.S. market, and we think there is still room for earnings growth to continue in Europe."