Rally Fails With Tech Stocks Again a Soft Spot in Trade War
(Bloomberg) -- What looked like a sturdy rally turned into another display of the technology sector's vulnerability to trade tensions, with the stock market's favorite industry pacing a reversal that steepened into the close.
Up as much as 0.9 percent an hour into the session, tech stocks gave it all back and more after Donald Trump's top economic adviser, Larry Kudlow, reiterated the White House's hard line on commerce. From peak to trough, the Nasdaq 100 Index retreated almost 161 points, the biggest plus-to-minus swing since April 24.
"There is a lot of uncertainty regarding what China can do against tech -- can they hold up deals, can they do anything else to hurt the industry?" said Mark Kepner, an equity trader at Themis Trading LLC. "There is a lot of nervousness."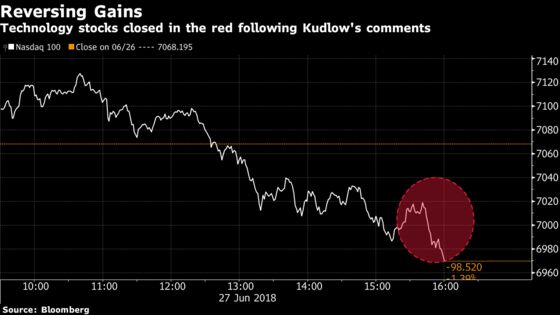 From its previous close, the Nasdaq 100 Index lost 1.4 percent, the second-biggest drop this week. Netflix Inc., the second-best performing S&P 500 stock in 2018, fell 2.3 percent, leading declines among the FAANG bloc that also includes Facebook Inc., Amazon.com Inc., Apple Inc. and Google-parent Alphabet Inc.
Concern about the state of international commerce is nothing new for investors, of course. Lately the paranoia has had a new whipping boy, the technology superstars who for three years have fueled the market's advance.
Semiconductor and software stocks suffered some of the worst declines. Micron Technology Inc., until recently the best-performing stock this year in the Philadelphia Semiconductor Index, paced losses in the group with a 4.3 percent decline.
High-flying Chinese technology companies were also hit. Video-streaming company iQiyi Inc. fell 13 percent and Bilibili Inc., the owner of a popular website for streaming animation videos, fell 12 percent. Alibaba Group Holding Ltd. fell 3.3 percent, its fourth decline of 2 percent or more in the past two weeks.
Not everyone considers a shift in weakness from one area to another to be the end of the world. Day-to-day drops and recoveries in industries have been the rule over the last few weeks, with little damage occurring in broader benchmarks.
"If we see tech falling but a rotation into other sectors, for example Monday we saw some strength in consumer staples, that sort of a rotational market would not be a concern to me," Peter Jankovskis, co-chief investment officer at Oakbrook Investments, said by phone.